Relive the captivating gameplay of a true city-building classic with Dawn of Discovery® and its Venice expansion in Anno® 1404 History Edition. See the game like never before, updated and optimized to work smoothly on current computers with resolutions of up to 4K, and enjoy all improvements while continuing your existing game with full save compatibility.
– Expand your empire with the Venice expansion, including co-op and competitive multiplayer, as well as new features, ships, quests, and items.
– Experience updated and expanded multiplayer functionality.
– Take advantage of improvements like borderless window mode and multi-screen support.
– Includes bonus content: Anno 1404 soundtrack, wallpaper, and a company logo for Anno 1800™.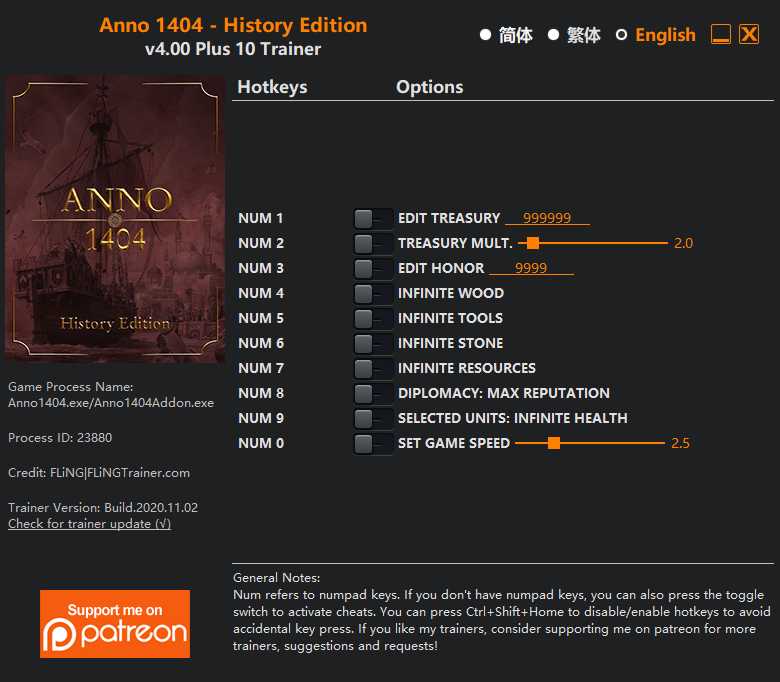 10 Options · Game Version: v4.00+ · Last Updated: 2020.11.02
Options
Num 1 – Edit Treasury
Num 2 – Treasury Multiplier
Num 3 – Edit Honor
Num 4 – Infinite Wood
Num 5 – Infinite Tools
Num 6 – Infinite Stone
Num 7 – Infinite Resources
Num 8 – Diplomacy: Max Reputation
Num 9 – Selected Units: Infinite Health
Num 0 – Set Game Speed
Notes
"Infinite Wood", "Infinite Tools", "Infinite Stone": If these items are displayed at the top left corner, they'll take effect immediately. Otherwise, you'll need to open any storage buildings to see the quantities change.
"Infinite Resources": Open any storage buildings to see the resource quantities change.