As a man or woman stranded naked, freezing and starving on the shores of a mysterious island called ARK, you must hunt, harvest resources, craft items, grow crops, research technologies, and build shelters to withstand the elements. Use your cunning and resources to kill or tame & breed the leviathan dinosaurs and other primeval creatures roaming the land, and team up with or prey on hundreds of other players to survive, dominate… and escape!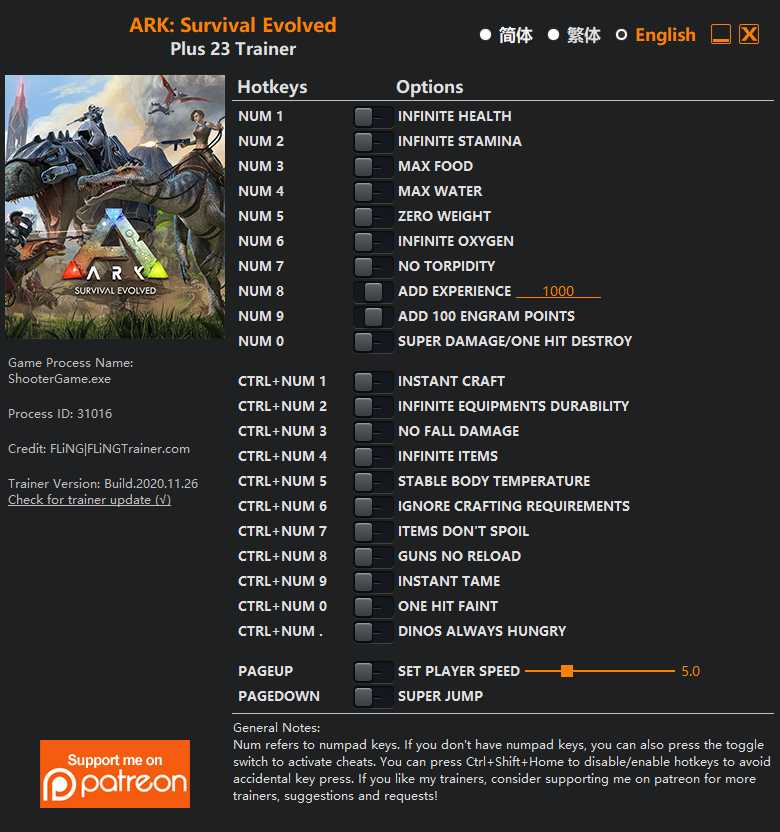 23 Options · Game Version: v1.0-v318.* · Last Updated: 2020.11.26
Note: single player mode only.
Options
Num 1 – Infinite Health
Num 2 – Infinite Stamina
Num 3 – Max Food
Num 4 – Max Water
Num 5 – Zero Weight
Num 6 – Infinite Oxygen
Num 7 – No Torpidity
Num 8 – Add Experience
Num 9 – Add 100 Engram Points
Num 0 – Super Damage/One Hit Destroy
Ctrl+Num 1 – Instant Craft
Ctrl+Num 2 – Infinite Equipments Durability
Ctrl+Num 3 – No Fall Damage
Ctrl+Num 4 – Infinite Items
Ctrl+Num 5 – Stable Body Temperature
Ctrl+Num 6 – Ignore Crafting Requirements
Ctrl+Num 7 – Items Don't Spoil
Ctrl+Num 8 – Guns No Reload
Ctrl+Num 9 – Instant Tame
Ctrl+Num 0 – One Hit Faint
Ctrl+Num . – Dinos Always Hungry
PageUp – Set Player Speed
PageDown – Super Jump
Notes
"Zero Weight" takes effect when weight changes (pick up/drop/move some items).
"Instant Craft": Activated before start crafting.
"Super Damage/One Hit Destroy" and "One Hit Faint" only works with melee damage.
Updates
2020.11.26: Update for v318.* game version.
2020.06.18: Added detection for BattlEye anticheat and will display a message to show how to launch no anticheat version if anticheat is detected. Trainer is also tested and fully compatible with Epic Store game version.