From the dawn of creation, THE COUNCIL has maintained the Balance across existence. Carrying out their orders are THE HORSEMEN, Nephilim (powerful beings spawned from the unnatural union of angels and demons) who have pledged themselves to the Council and been granted immense power. However, this power came at a tragic cost: the Horsemen were ordered to use their newfound strength to wipe out the rest of their kind. What followed was a bloody battle on Eden where the Horsemen, obeying the will of the Council, annihilated the Nephilim.
Still reeling from the events on Eden, WAR and STRIFE have been given a new assignment — LUCIFER, the enigmatic and deceptive demon king, has been plotting to upset the Balance by granting power to master demons throughout Hell. War and Strife must hunt down these masters, gather information, and ultimately fight their way through a tangled, demonic conspiracy that threatens to forever upset the Balance and unravel all of creation.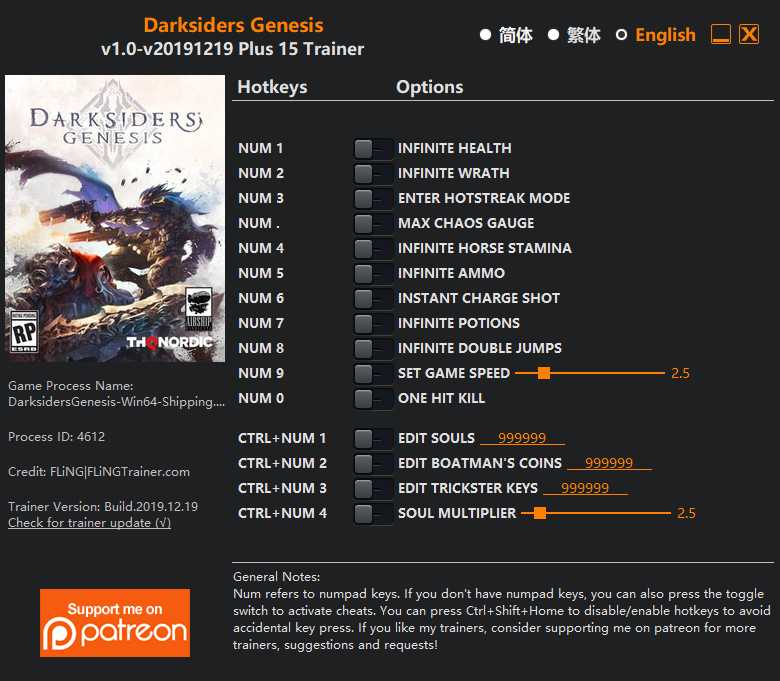 15 Options · Game Version: v1.0-v20191219+ · Last Updated: 2019.12.19
Options
Num 1 – Infinite Health
Num 2 – Infinite Wrath
Num 3 – Enter Hotstreak Mode
Num . – Max Chaos Gauge
Num 4 – Infinite Horse Stamina
Num 5 – Infinite Ammo
Num 6 – Instant Charge Shot
Num 7 – Infinite Potions
Num 8 – Infinite Double Jumps
Num 9 – Set Game Speed
Num 0 – One Hit Kill
Ctrl+Num 1 – Edit Souls
Ctrl+Num 2 – Edit Boatman's Coins
Ctrl+Num 3 – Edit Trickster Keys
Ctrl+Num 4 – Soul Multiplier
Notes
"Infinite Health" and "Infinite Wrath" also work for teammate/2nd character.
"Infinite Ammo" takes effect after shooting.
Updates
2019.12.19: Update for v20191219 game version.
2019.12.11: Added "Max Chaos Gauge" option. Update for v20191210 game version.