The DEAD OR ALIVE franchise is a AAA fighting game series produced by Koei Tecmo Games' Team NINJA. Composed of fast-paced 3D fighting games that began with the original DEAD OR ALIVE arcade game in 1996, and have since appeared on a multitude of consoles and arcade machines around the world. In DEAD OR ALIVE 6, the world of DOA is brought back more vibrant than ever, featuring both enhanced visuals and an updated combat systems, aimed to provide the highest possible level of new fighting entertainment.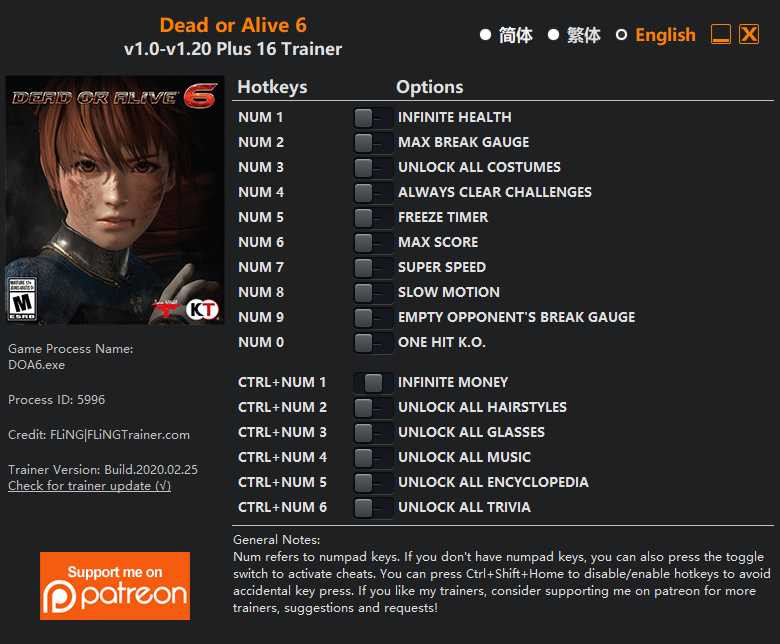 16 Options · Game Version: v1.0-v1.20 · Last Updated: 2020.02.25
Options
Num 1 – Infinite Health
Num 2 – Max Break Gauge
Num 3 – Unlock All Costumes
Num 4 – Always Clear Challenges
Num 5 – Freeze Timer
Num 6 – Max Score
Num 7 – Super Speed
Num 8 – Slow Motion
Num 9 – Empty Opponent's Break Gauge
Num 0 – One Hit K.O.
Ctrl+Num 1 – Infinite Money
Ctrl+Num 2 – Unlock All Hairstyles
Ctrl+Num 3 – Unlock All Glasses
Ctrl+Num 4 – Unlock All Music
Ctrl+Num 5 – Unlock All Encyclopedia
Ctrl+Num 6 – Unlock All Trivia
Notes
Unlock All xxx options will temporary unlock items, item lock/unlock state will restore back to normal when these options are disabled.
You still need to purchase Music, Encyclopedia, Trivia even if you use the unlock options. If you purchase them, they will be permanently unlocked.