Eastern Exorcist is a stunning 2D side-scrolling action RPG set in a fictitious eastern world with the infestation of vicious demon monsters. Play as a skilled exorcist against chaotic evil to fight your way through the brutal world, and experience unforeseen entanglements of complex beings.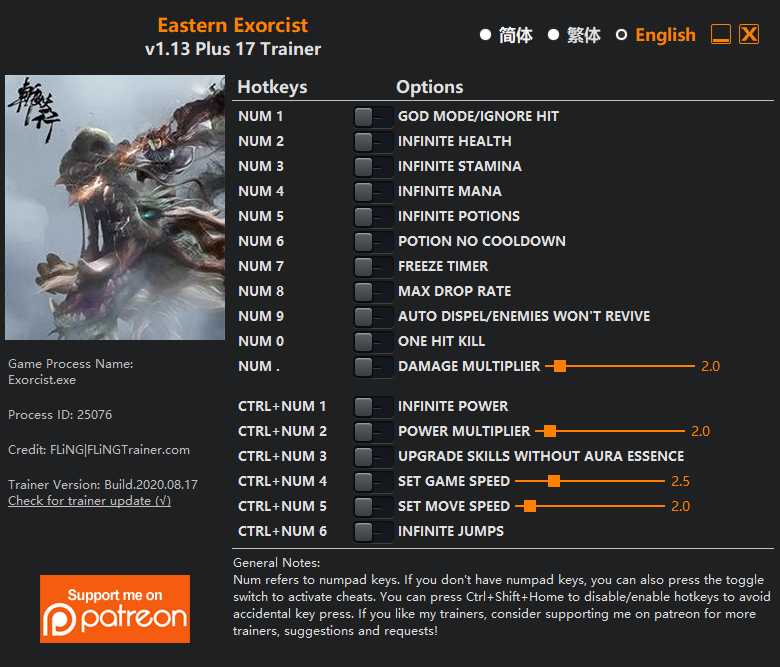 17 Options · Game Version: 1.13+ · Last Updated: 2020.08.17
Options
Num 1 – God Mode/Ignore Hit
Num 2 – Infinite Health
Num 3 – Infinite Stamina
Num 4 – Infinite Mana
Num 5 – Infinite Potions
Num 6 – Potion No Cooldown
Num 7 – Freeze Timer
Num 8 – Max Drop Rate
Num 9 – Auto Dispel/Enemies Won't Revive
Num 0 – One Hit Kill
Num . – Damage Multiplier
Ctrl+Num 1 – Infinite Power
Ctrl+Num 2 – Power Multiplier
Ctrl+Num 3 – Learn Skills Without Aura Essence
Ctrl+Num 4 – Set Game Speed
Ctrl+Num 5 – Set Move Speed
Ctrl+Num 6 – Infinite Jumps
Notes
"Infinite Mana" takes effect when your skill gain/spend mana.
"Infinite Potions" takes effect when you gain or consume potion.
"Max Drop Rate": Note not all enemies have item to drop.
"Infinite Power" takes effect when you gain/spend power.
"Learn Skills Without Aura Essence": When activated, aura essence requirements will set to 0 in skill tree menu.
"Learn Skills Without Aura Essence": Note if you want to disable this option after it took effects, you'll need to restart the game to revoke the effects.