EVERSPACE™ is an action-focused single-player space shooter, combining roguelike elements with top-notch visuals and a captivating story. It takes you on a challenging journey through an ever-changing, beautifully crafted universe full of surprises. Your skills, experience, and talent for improvisation will be tested continuously as you piece together the puzzle of your existence through encounters with interesting characters, each having their own unique part of the story to tell. In each exciting run, you will face entirely new situations, ensuring countless hours of thrilling gameplay and generating myriad opportunities for individual, meaningful moments to experience. No matter how skilled you are, death is inevitable but is also only the beginning of a much larger journey.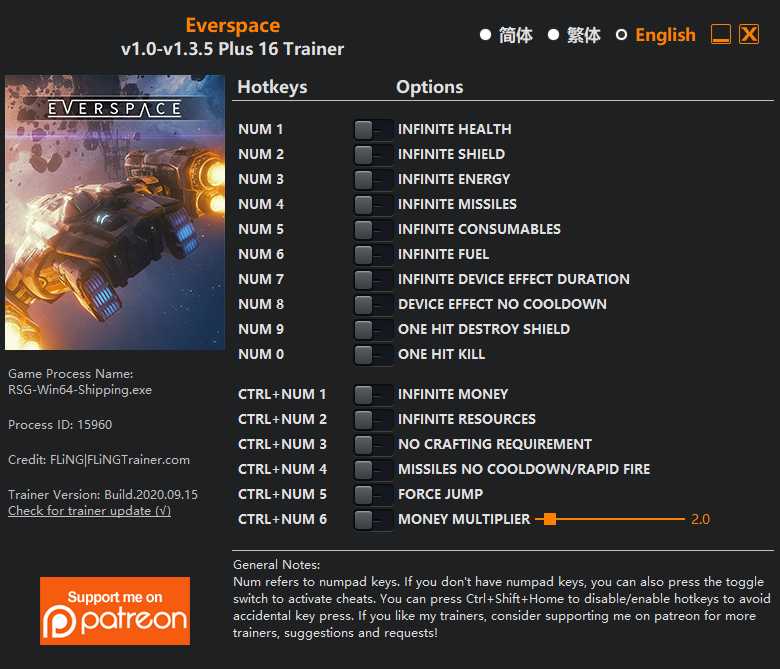 16 Options · Game Version: v1.0-v1.3.5+ 64 bit · Last Updated: 2020.09.15
Options
Num 1 – Infinite Health
Num 2 – Infinite Shield
Num 3 – Infinite Energy
Num 4 – Infinite Missiles
Num 5 – Infinite Consumables
Num 6 – Infinite Fuel
Num 7 – Infinite Device Effect Duration
Num 8 – Device Effect No Cooldown
Num 9 – One Hit Destroy Shield
Num 0 – One Hit Kill
Ctrl+Num 1 – Infinite Money
Ctrl+Num 2 – Infinite Resources
Ctrl+Num 3 – No Crafting Requirement
Ctrl+Num 4 – Missiles No Cooldown/Rapid Fire
Ctrl+Num 5 – Force Jump
Ctrl+Num 6 – Money Multiplier
Notes
"Infinite Money" takes effect when gaining money.
"No Crafting Requirement": Note you need to disable this option when entering new location with merchants in it, otherwise the game will crash (you'll not lose progress).
"Force Jump": Whenever you receive damage, you'll automatically jump to the next location, also works in jumping suppressed locations.
Updates
2020.09.15: Update for v1.3.5 game version.