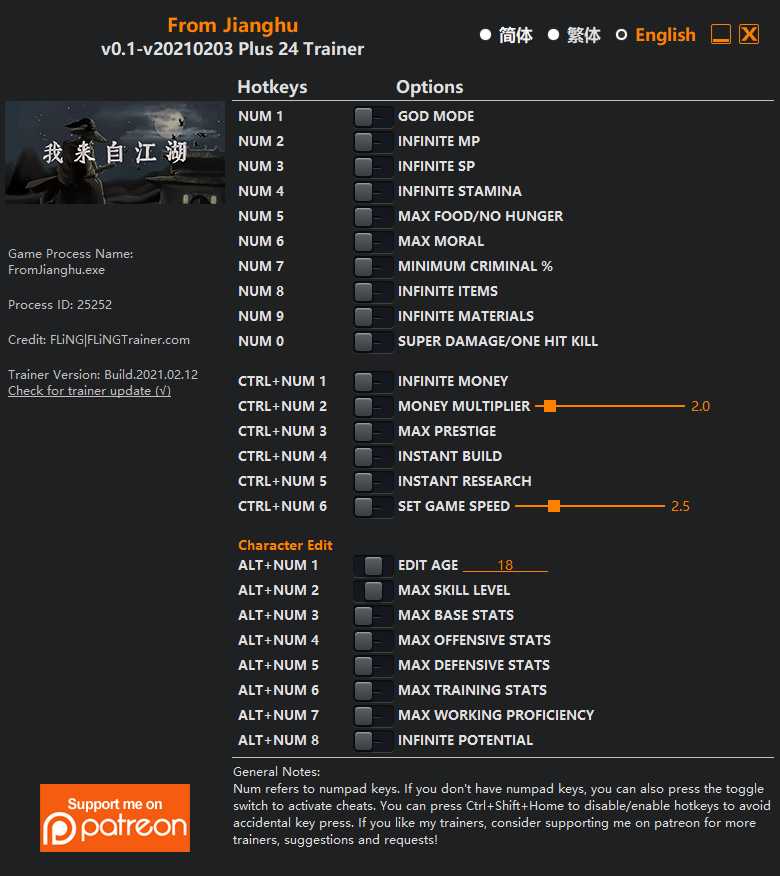 24 Options · Game Version: Early Access v0.1-v20210203+ · Last Updated: 2021.02.12
Options
Num 1 – God Mode
Num 2 – Infinite MP
Num 3 – Infinite SP
Num 4 – Infinite Stamina
Num 5 – Max Food/No Hunger
Num 6 – Max Moral
Num 7 – Minimum Criminal %
Num 8 – Infinite Items
Num 9 – Infinite Materials
Num 0 – Super Damage/One Hit Kill
Ctrl+Num 1 – Infinite Money
Ctrl+Num 2 – Money Multiplier
Ctrl+Num 3 – Max Prestige
Ctrl+Num 4 – Instant Build
Ctrl+Num 5 – Instant Research
Ctrl+Num 6 – Set Game Speed
Character Edit
Alt+Num 1 – Edit Age
Alt+Num 2 – Max Skill Level
Alt+Num 3 – Max Base Stats
Alt+Num 4 – Max Offensive Stats
Alt+Num 5 – Max Defensive Stats
Alt+Num 6 – Max Training Stats
Alt+Num 7 – Max Working Proficiency
Alt+Num 8 – Infinite Potential
Notes
"Infinite MP" and "Infinite SP" take effects when you attack the enemy.
"Infinite Stamina", "Max Food/No Hunger", "Max Moral", "Minimum Criminal %" take effects when their values update.
"Infinite Money" takes effect when gaining money.
"Max Prestige" takes effect when gaining prestige.
Character Edit: Open character stats menu to see the values change.
Character Edit: Some stats are not permanent, they will reset after loading save file.
Updates
2021.02.12: Update for v20210203 game version.
2021.01.09: Update for v20210109 game version.
2020.12.31: Update for v20201227 game version.