Gears Tactics is the fast-paced, turn-based strategy game set 12 years before the first Gears of War. Cities on the planet Sera are beginning to fall to the monstrous threat rising from underground – the Locust Horde. With the government in disarray, a squad of survivors emerge as humanity's last hope. Play as Gabe Diaz, recruiting, developing and commanding your squads on a desperate mission to hunt down the relentless and powerful leader of the Locust army: Ukkon, the mastermind monster who makes monsters. Against all odds and fighting for survival, outsmart your enemy in uniquely brutal, turn-based tactical combat. Experience the intensity of one of the most-acclaimed video game sagas in an exciting new way.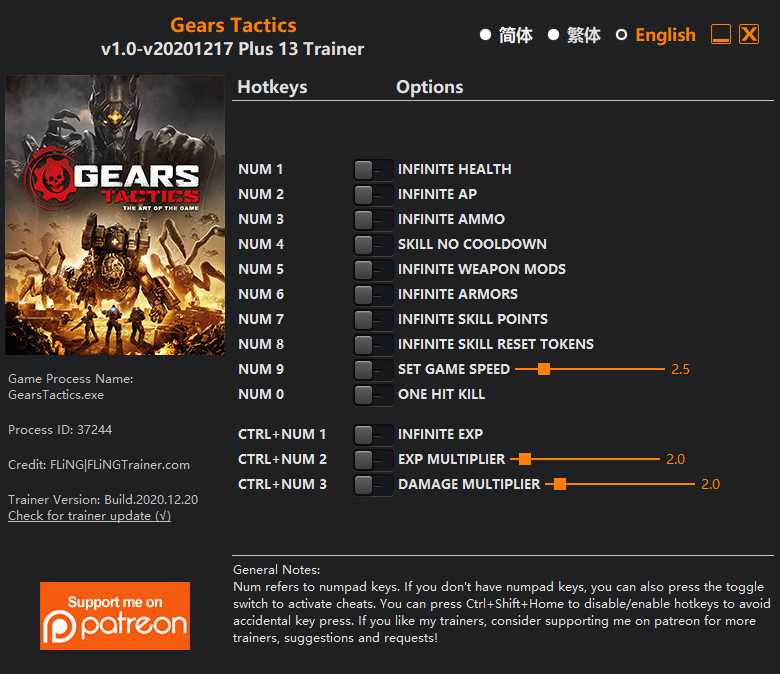 13 Options · Game Version: Steam/Windows Store v1.0-v20201217+ · Last Updated: 2020.12.20
Options
Num 1 – Infinite Health
Num 2 – Infinite AP
Num 3 – Infinite Ammo
Num 4 – Skill No Cooldown
Num 5 – Infinite Weapon Mods
Num 6 – Infinite Armors
Num 7 – Infinite Skill Points
Num 8 – Infinite Skill Reset Tokens
Num 9 – Set Game Speed
Num 0 – One Hit Kill
Ctrl+Num 1 – Infinite Exp
Ctrl+Num 2 – Exp Multiplier
Ctrl+Num 3 – Damage Multiplier
Notes
Don't use any cheats during tutorial, otherwise you may need to restart the tutorial mission.
"Infinite Skill Reset Tokens" takes effect when you try to reset skills.
"Infinite Exp" takes effect after completing a mission.
"Infinite Weapon Mods", "Infinite Armors": You may need to switch menu/character to see the values change.
Updates
2020.12.20: Update for v20201217 game version.