When a young street hustler, a retired bank robber and a terrifying psychopath find themselves entangled with some of the most frightening and deranged elements of the criminal underworld, the U.S. government and the entertainment industry, they must pull off a series of dangerous heists to survive in a ruthless city in which they can trust nobody, least of all each other.
Grand Theft Auto V for PC offers players the option to explore the award-winning world of Los Santos and Blaine County in resolutions of up to 4k and beyond, as well as the chance to experience the game running at 60 frames per second.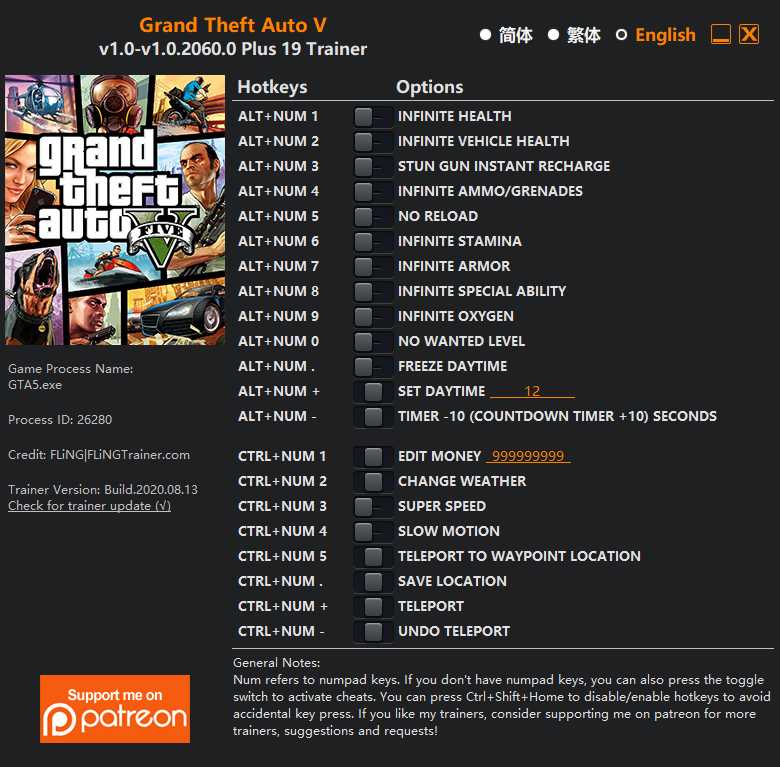 19 Options · Game Version: Steam/Epic Store v1.0-v1.0.2060.0+ · Last Updated: 2020.08.13
Note: Story mode only.
Options
Alt+Num 1 – Infinite Health
Alt+Num 2 – Infinite Vehicle Health
Alt+Num 3 – Stun Gun Instant Recharge
Alt+Num 4 – Infinite Ammo/Grenades
Alt+Num 5 – No Reload
Alt+Num 6 – Infinite Stamina
Alt+Num 7 – Infinite Armor
Alt+Num 8 – Infinite Special Ability
Alt+Num 9 – Infinite Oxygen
Alt+Num 0 – No Wanted Level
Alt+Num . – Freeze Daytime
Alt+Num + – Set Daytime
Alt+Num – – Timer -10 (Countdown Timer +10) Seconds
Ctrl+Num 1 – Edit Money
Ctrl+Num 2 – Change Weather
Ctrl+Num 3 – Super Speed
Ctrl+Num 4 – Slow Motion
Ctrl+Num 5 – Teleport To Waypoint Location
Ctrl+Num . – Save Location
Ctrl+Num + – Teleport
Ctrl+Num – – Undo Teleport
Notes
"Infinite Health" can't prevent death from explosion.
Teleport options only work when player is standing still. If you're not teleported, try pressing the hotkeys multiple times.
"Teleport To Waypoint Location": You'll fall from the sky after teleporting, use "Infinite Health" to prevent death.
"Timer -10 (Countdown Timer +10) Seconds": You may experience some issues when using this option, such as not able to walk (perform attack or jump will resolve this issue) or not able to sprint (just wait for 10 seconds or more, it will resolve automatically)
Updates
2020.08.13: Update for v1.0.2060.0 game version.