Griftlands is a deck-building rogue-like where you fight and negotiate your way through a broken-down sci-fi world. Every decision is important, be it the jobs you take, the friends you make, or the cards you collect. Death comes quickly, but each play offers new situations and strategies to explore.
Play as Sal, Rook, or Smith. Three unique character campaigns with their own specialized decks, abilities and maps to explore. Sal is an adventurer out for profit and revenge. Rook is an aging spy working his own agenda. Smith is an idle loafer who might just save the world. Each playable character's story takes place in a unique environment, with different factions and locations to explore and exploit.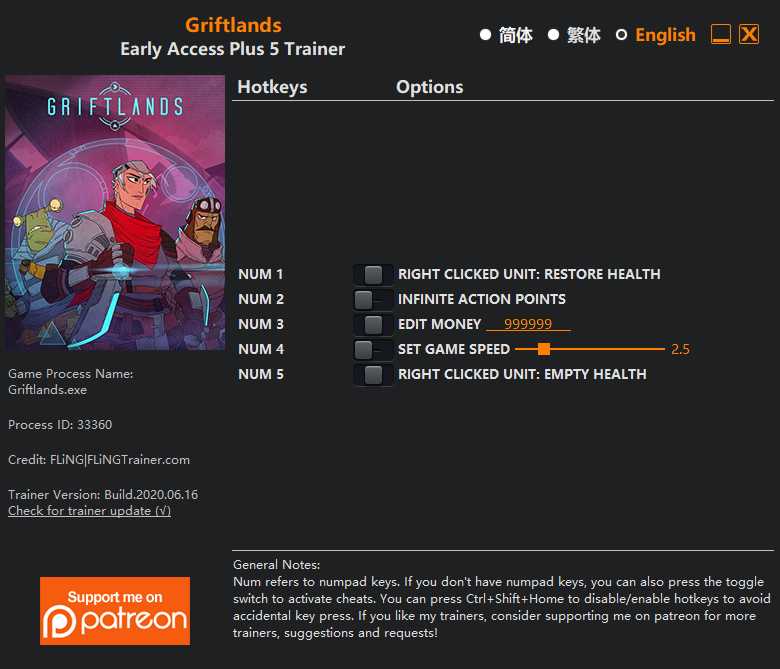 5 Options · Game Version: Early Access · Last Updated: 2020.06.16
Options
Num 1 – Right Clicked Unit: Restore Health
Num 2 – Infinite Action Points
Num 3 – Edit Money
Num 4 – Set Game Speed
Num 5 – Right Clicked Unit: Empty Health
Notes
"Edit Money" takes effect when the money value refreshes (change location, talk to people, etc).
"Right Clicked Unit: Restore Health" and "Right Clicked Unit: Empty Health": Right click on a unit to bring up the stats menu, then activate these options. Note the health value does not update immediately, wait for next turn to see the values change.