Half-Life: Alyx is Valve's VR return to the Half-Life series. It's the story of an impossible fight against a vicious alien race known as the Combine, set between the events of Half-Life and Half-Life 2.
Playing as Alyx Vance, you are humanity's only chance for survival. The Combine's control of the planet since the Black Mesa incident has only strengthened as they corral the remaining population in cities. Among them are some of Earth's greatest scientists: you and your father, Dr. Eli Vance.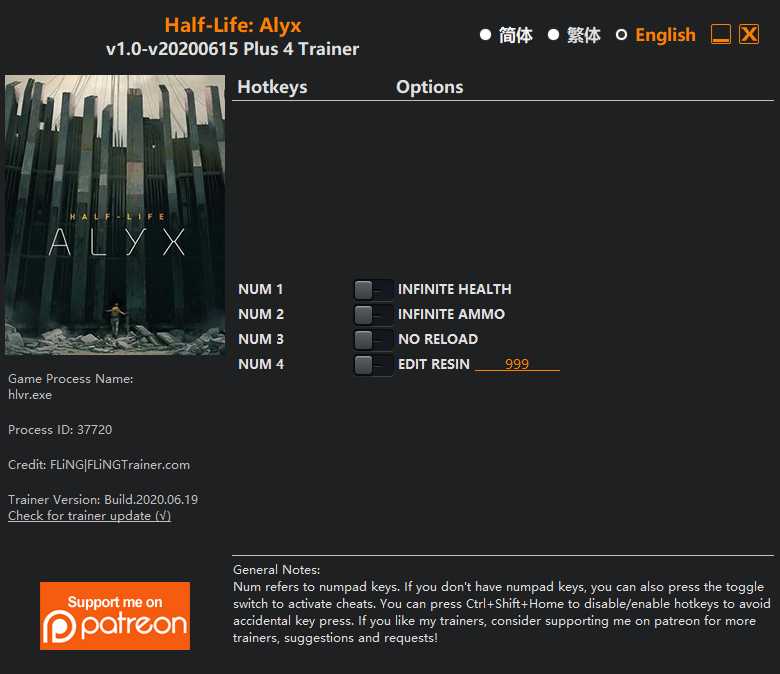 4 Options · Game Version: v1.0-v20200615+ · Last Updated: 2020.06.19
Options
Num 1 – Infinite Health
Num 2 – Infinite Ammo
Num 3 – No Reload
Num 4 – Edit Resin
Notes
"Infinite Ammo" takes effect when you take out ammo from your backpack.
"No Reload" works for pistol, shotgun, and SMG. Note: For shotgun, ammo still deplete but you can still shoot even if you don't have any ammo.
Updates
2020.06.19: Update for v20200615 game version.
2020.04.01: "No Reload" now also work for shotgun and SMG.