Indivisible is an action RPG platformer featuring stunning hand drawn art and animation combined with unique real-time combat mechanics.
Immerse yourself in a fantastical world with dozens of playable characters, a rich storytelling experience, gameplay that's easy to learn but difficult to master, and the trademark razor-sharp quality that Lab Zero Games is known for!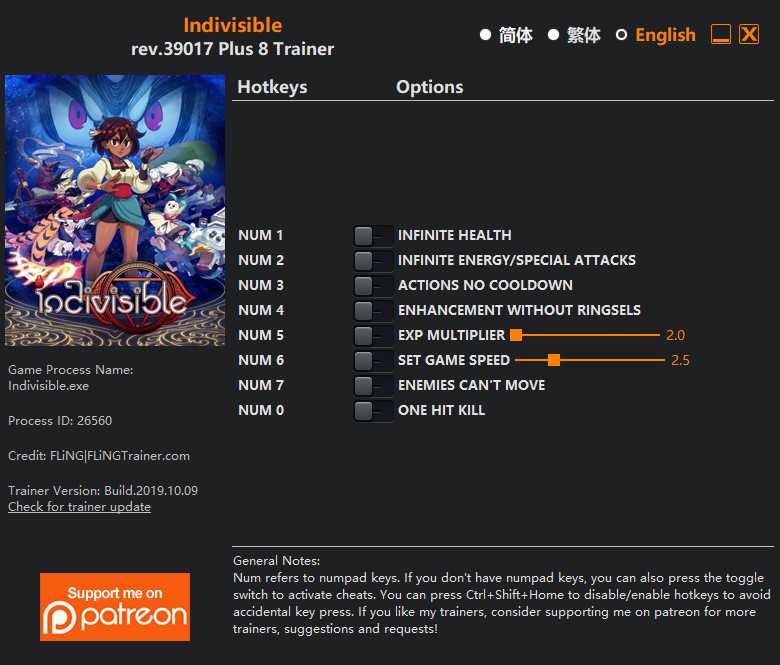 8 Options · Game Version: rev.39017+ · Last Updated: 2019.10.09
Options
Num 1 – Infinite Health
Num 2 – Infinite Energy/Special Attacks
Num 3 – Actions No Cooldown
Num 4 – Enhancement Without Ringsels
Num 5 – Exp Multiplier
Num 6 – Set Game Speed
Num 7 – Enemies Can't Move
Num 0 – One Hit Kill
Notes
"Infinite Health" only works during battle. If you receive damage outside of battle, your health will decrease.
"Enhancement Without Ringsels": While activated, you can do enhancements even if you don't have ringsels, but if you do have ringsels, they will be used.
"One Hit Kill": There might be events during certain battles, using this options may cause problem such as unable to kill enemies or events not triggering, you will need to reload and fight the battle again.