Kingdoms Reborn is a city builder with simulated citizens, set in a procedurally-generated world map. Grow your kingdom through the eras from a tiny medieval hamlet into a prosperous global empire! Cooperate or compete in real-time with your friends in multiplayer mode.
The Great Freeze left civilization in ruins. Few were strong enough to withstand the cold and plague that claimed the earth. Decades have passed since the frost took our lands, and our courage and hope have returned with the melting of the ice. It falls to us, we surviving few, to rebuild a flourishing civilization.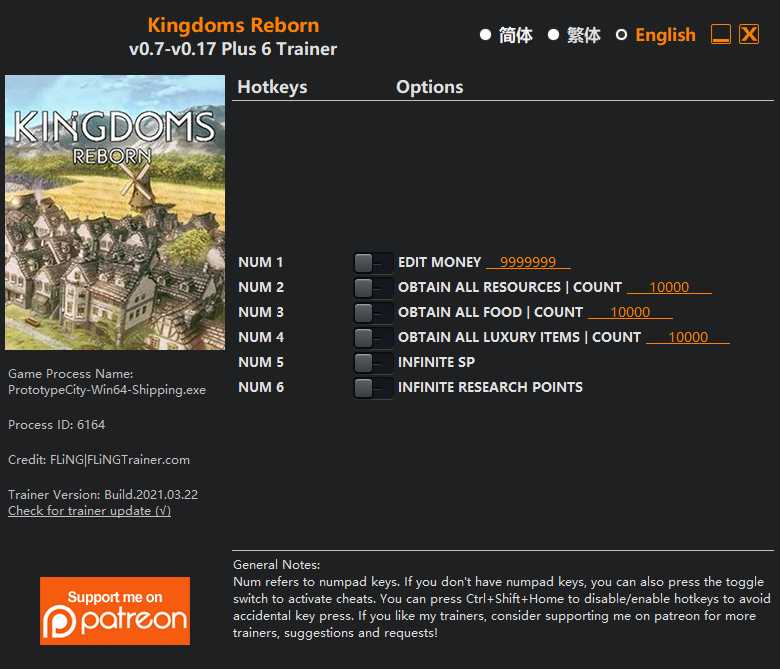 6 Options · Game Version: Early Access v0.7-v0.17+ · Last Updated: 2021.03.22
Options
Num 1 – Edit Money
Num 2 – Obtain All Resources
Num 3 – Obtain All Food
Num 4 – Obtain All Luxury Items
Num 5 – Infinite SP
Num 6 – Infinite Research Points
Notes
"Obtain All Resources", "Obtain All Food", "Obtain All Luxury Items": Quantity will apply to all resources/food/luxury items.