Europe in the early Middle Ages — Nobles and clergy rule and the trade between nations brings prosperity as well as envy, distrust, and greed. Military conflict is everywhere and entire continents are changing.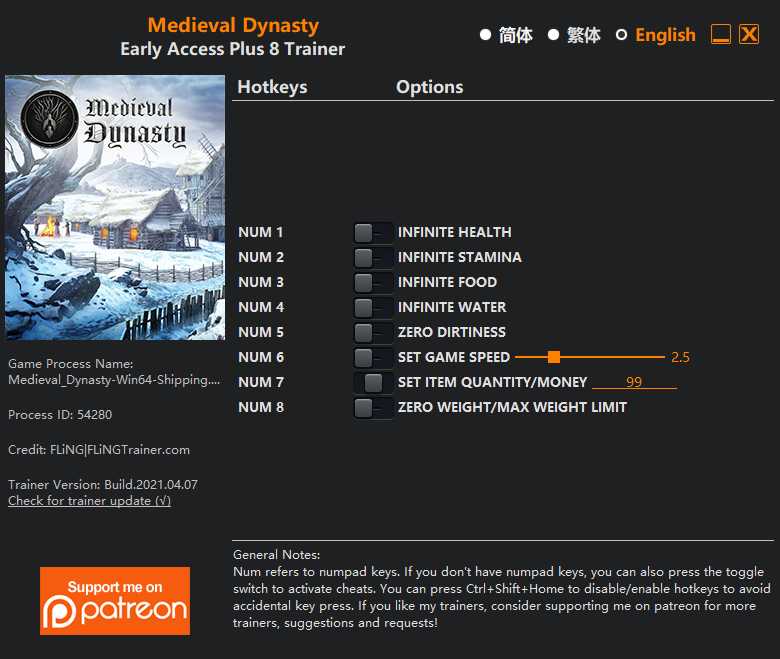 8 Options · Game Version: Early Access v0.4.0+ · Last Updated: 2021.04.07
Options
Num 1 – Infinite Health
Num 2 – Infinite Stamina
Num 3 – Infinite Food
Num 4 – Infinite Water
Num 5 – Zero Dirtiness
Num 6 – Set Game Speed
Num 7 – Set Item Quantity/Money
Num 8 – Zero Weight/Max Weight Limit
Notes
"Infinite Health" takes effect when health value changes.
"Set Item Quantity/Money" takes effect when item quantity/money value changes.
"Zero Weight/Max Weight Limit": If you're overburdened before using this option, you'll need to pick up/drop something in order to remove the overburdened effect.
Updates
2021.04.07: Update for v0.4.0 game version.
2021.01.01: Update for v0.3.0 game version.
2020.09.24: Update for v0.1.0 game version.