Hell has frozen over. Only you can protect the final burning pyre from the forces of heaven and restore the inferno. Monster Train brings a new strategic layer to roguelike deck building, with three vertical play fields to defend.
To take back hell, you'll need to power up. Choose your route carefully, different locations give different benefits; upgrade your champion, recruit powerful units, upgrade cards, gain passive bonuses or duplicate any card in your deck.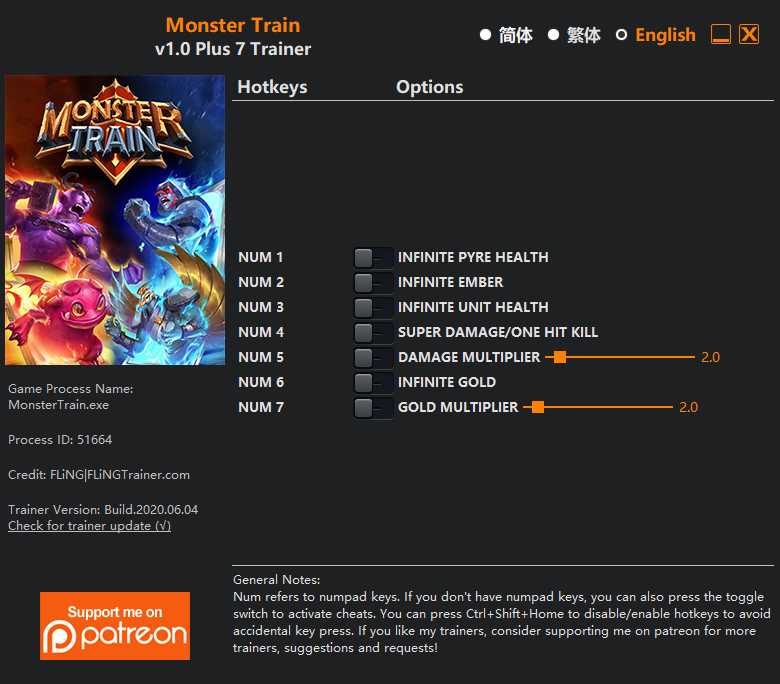 7 Options · Game Version: v1.0 · Last Updated: 2020.06.04
Options
Num 1 – Infinite Pyre Health
Num 2 – Infinite Ember
Num 3 – Infinite Unit Health
Num 4 – Super Damage/One Hit Kill
Num 5 – Damage Multiplier
Num 6 – Infinite Gold
Num 7 – Gold Multiplier
Notes
"Infinite Pyre Health" takes effect when pyre takes damage.
"Infinite Gold" takes effect when you gain or spend gold.