MK is back and better than ever in the next evolution of the iconic franchise.
The all new Custom Character Variations give you unprecedented control of your fighters to make them your own. The new graphics engine showcases every skull-shattering, eye-popping moment, bringing you so close to the fight you can feel it. Featuring a roster of new and returning Klassic Fighters, Mortal Kombat's best-in-class cinematic story mode continues the epic saga over 25 years in the making.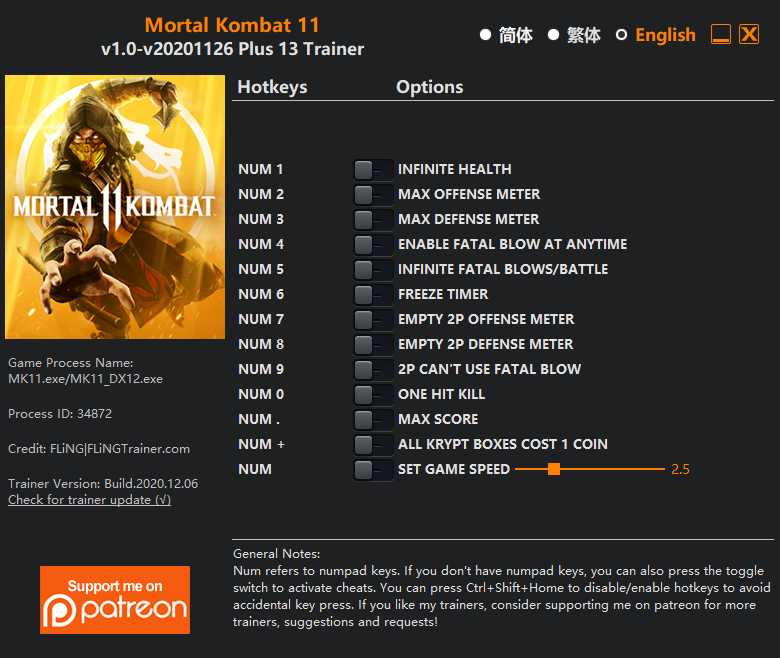 13 Options · Game Version: v1.0-v20201126+ · Last Updated: 2020.12.06
Options
Num 1 – Infinite Health
Num 2 – Max Offense Meter
Num 3 – Max Defense Meter
Num 4 – Enable Fatal Blow At Anytime
Num 5 – Infinite Fatal Blows/Battle
Num 6 – Freeze Timer
Num 7 – Empty 2P Offense Meter
Num 8 – Empty 2P Defense Meter
Num 9 – 2P Can't Use Fatal Blow
Num 0 – One Hit Kill
Num . – Max Score
Num + – All Krypt Boxes Cost 1 Coin
Num – – Set Game Speed
Updates
2020.12.06: Update for v20201126 game version; Added "Set Game Speed" option.
2020.11.20: Update for v20201117 game version.
2020.09.15: Update for v20200915 game version.
2020.06.01: Update for v20200527 game version.