Journey back to the other world in Ni no Kuni: Wrath of the White Witch™ Remastered. LEVEL-5's classic tale returns better than ever, with improved graphics and performance. Join Oliver as he embarks on an adventure through a world inhabited by new friends and ferocious foes alike in the hopes of bringing back his mother after a tragic incident.
This charming tale unfolds through the use of animation storyboarded and created by the legendary Studio Ghibli and music composed by the renowned Joe Hisaishi. Ni no Kuni: Wrath of the White Witch™ combines beautiful animated visuals, masterful storytelling, and a sweeping score to create an epic role-playing adventure like no other.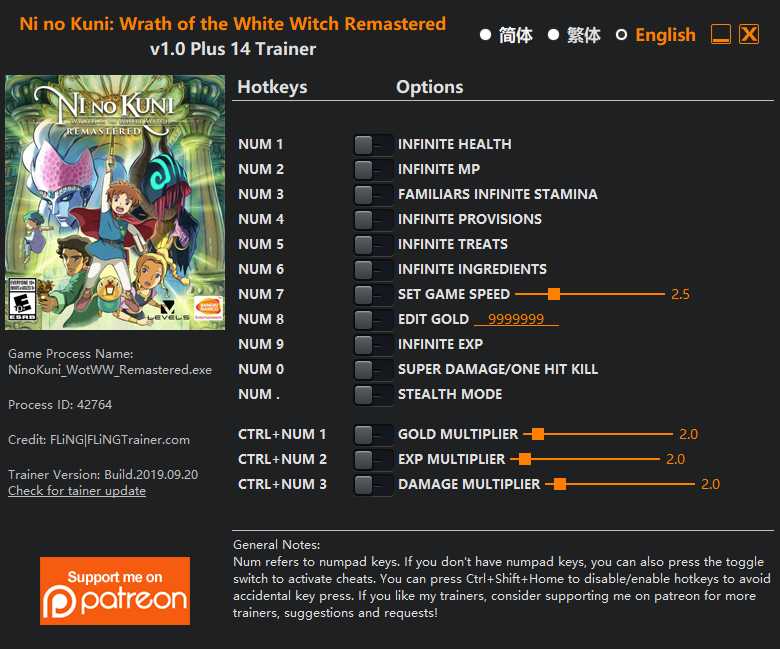 14 Options · Game Version: v1.0+ · Last Updated: 2019.09.20
Options
Num 1 – Infinite Health
Num 2 – Infinite MP
Num 3 – Familiars Infinite Stamina
Num 4 – Infinite Provisions
Num 5 – Infinite Treats
Num 6 – Infinite Ingredients
Num 7 – Set Game Speed
Num 8 – Edit Gold
Num 9 – Infinite Exp
Num 0 – Super Damage/One Hit Kill
Num . – Stealth Mode
Ctrl+Num 1 – Gold Multiplier
Ctrl+Num 2 – Exp Multiplier
Ctrl+Num 3 – Damage Multiplier
Notes
"Infinite Health" takes effect when you receive damage; "Infinite MP" takes effect when MP decreases.
"Infinite Provisions", "Infinite Treats", "Infinite Ingredients" take effects when you open the corresponding inventory pages.
"Edit Gold" takes effect when you open menu; "Infinite Exp" takes effect when you win a battle.
"Stealth Mode": While activated, enemies will ignore you, if you come in contact with enemies, you can still enter battles.