Eight travelers. Eight adventures. Eight roles to play. Embark on an epic journey across the vast and wondrous world of Orsterra and discover the captivating stories of each of the eight travelers.
Play as eight different characters, each with their own stories to uncover and side quests to complete.
Explore the enchanting yet perilous world of Orsterra, spanning 8 vast regions and discover each character's full story as their journey unfolds.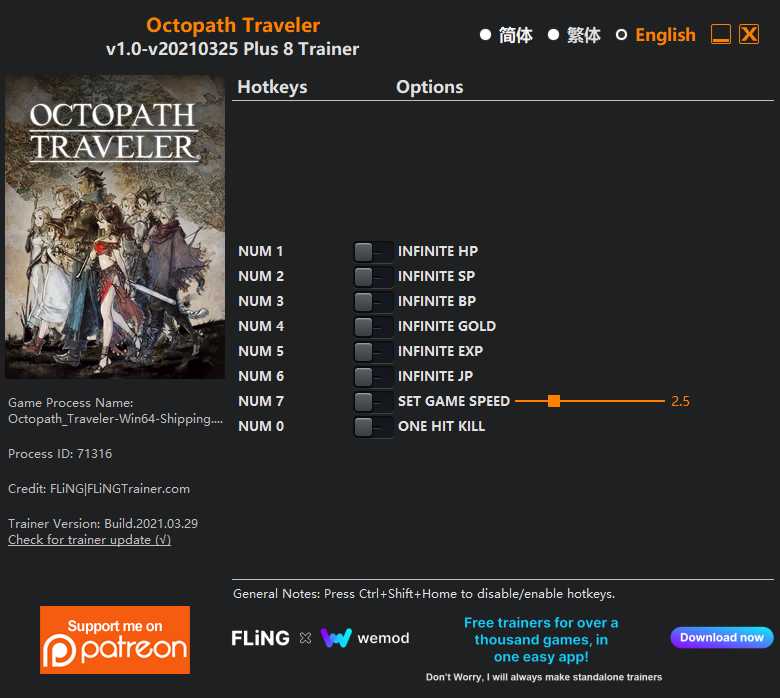 8 Options · Game Version: Steam/Windows Store v1.0-v20210325 · Last Updated: 2021.03.29
Options
Num 1 – Infinite HP
Num 2 – Infinite SP
Num 3 – Infinite BP
Num 4 – Infinite Gold
Num 5 – Infinite Exp
Num 6 – Infinite JP
Num 7 – Set Game Speed
Num 0 – One Hit Kill
Notes
When "Infinite BP" is activated, you can use boost even if you don't have BP.
Updates
2021.03.29: Support for Windows Store/v20210325 game version.
2020.07.23: Support for v20200722 game version.
2019.11.08: Support for v20191105 game version.
2019.06.07: Trainer was not working on certain systems, now should be fixed.