Path of Wuxia is the fourth title of Heluo Studio since the launch of the studio's first title, Tale of Wuxia. Combine Wuxia world and school life with anime art style, it returns to the simulation gameplay well known by fans. Play as a young Xia who possesses extraordinary ability and join the academy known as the Hermitic Pavilions of Xia, grow strong along with various schoolmates and seek your own path of Xia.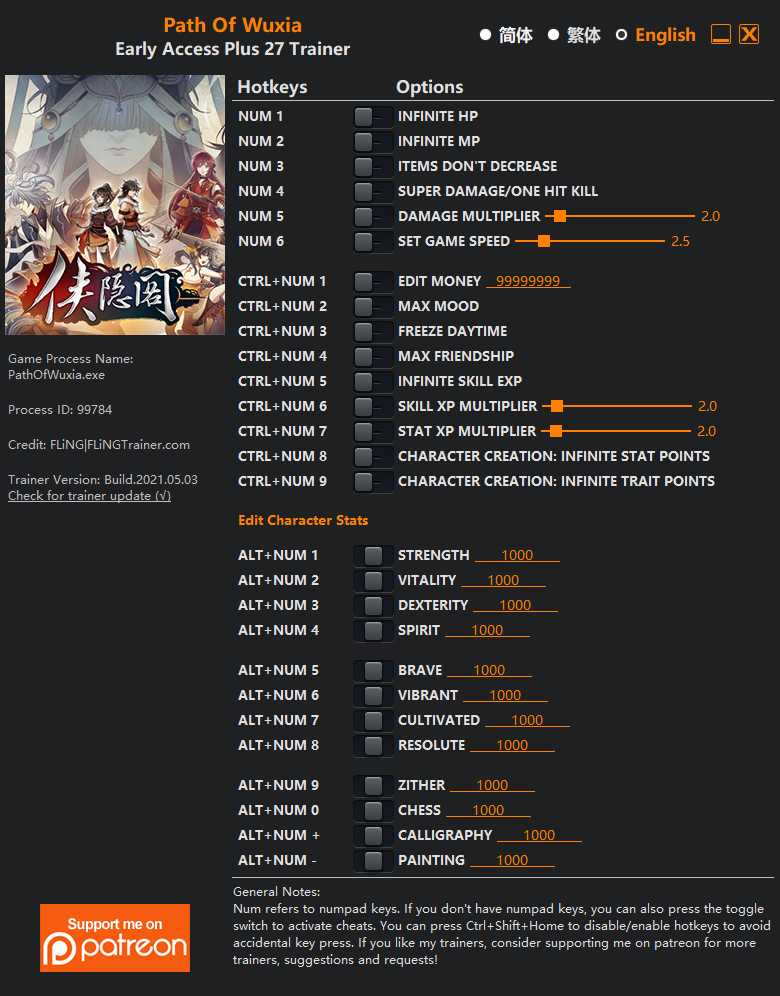 27 Options · Game Version: Early Access · Last Updated: 2020.05.01
Options
Num 1 – Infinite HP
Num 2 – Infinite MP
Num 3 – Items Don't Decrease
Num 4 – Super Damage/One Hit Kill
Num 5 – Damage Multiplier
Num 6 – Set Game Speed
Ctrl+Num 1 – Edit Money
Ctrl+Num 2 – Max Mood
Ctrl+Num 3 – Freeze Daytime
Ctrl+Num 4 – Max Friendship
Ctrl+Num 5 – Infinite Skill Exp
Ctrl+Num 6 – Skill XP Multiplier
Ctrl+Num 7 – Stat XP Multiplier
Ctrl+Num 8 – Character Creation: Infinite Stat Points
Ctrl+Num 9 – Character Creation: Infinite Trait Points
Edit Character Stats
Alt+Num 1 – Strength
Alt+Num 2 – Vitality
Alt+Num 3 – Dexterity
Alt+Num 4 – Spirit
Alt+Num 5 – Brave
Alt+Num 6 – Vibrant
Alt+Num 7 – Cultivated
Alt+Num 8 – Resolute
Alt+Num 9 – Zither
Alt+Num 0 – Chess
Alt+Num + – Calligraphy
Alt+Num – – Painting
Notes
"Infinite HP", "Infinite MP": When activated, HP and MP will restore to max when their values changed.
"Edit Money" takes effect when opening stats/main menu.
"Max Mood" takes effect when mood changes.
"Freeze Daytime" works best at day, if you activated this option at night and the next day has events, time will go as normal.
"Infinite Skill Exp" takes effect when you gain skill exp.
"Skill Exp Multiplier": Note the display value is not affected, the actual exp you are gaining is multiplied.