From the creator of 'Plague Inc: Evolved' comes a unique and deeply engaging political/military strategic simulation.
In Rebel Inc: Escalation, the war is 'over' – but we all know that doesn't mean anything. In order to stabilise a war-torn country, you need to balance competing military and civilian priorities to win the hearts and minds of the people, whilst also stopping a deadly insurgency from seizing power!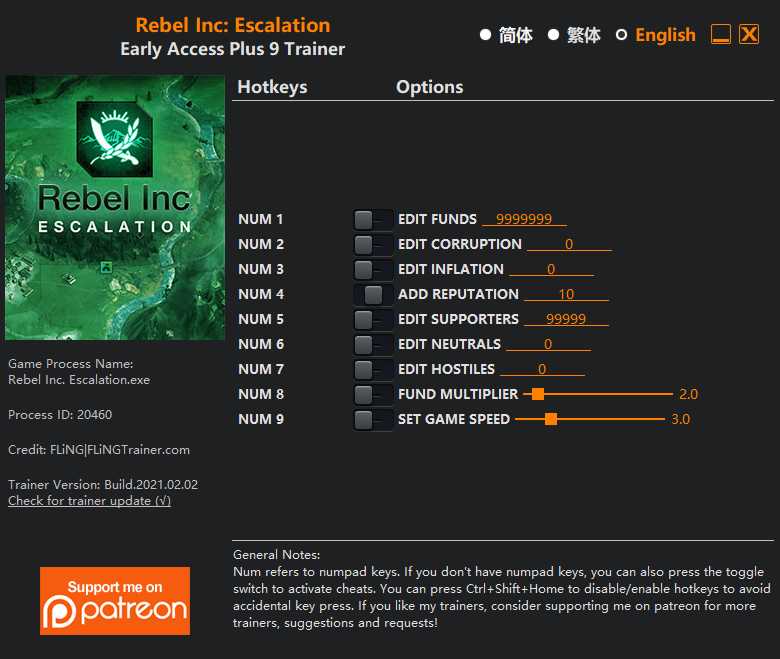 9 Options · Game Version: Early Access v0.6.0-v0.8.0+ · Last Updated: 2021.02.02
Options
Num 1 – Edit Funds
Num 2 – Edit Corruption
Num 3 – Edit Inflation
Num 4 – Add Reputation
Num 5 – Edit Supporters
Num 6 – Edit Neutrals
Num 7 – Edit Hostiles
Num 8 – Fund Multiplier
Num 9 – Set Game Speed
Notes
All Editing options take effects when their values update every month.
Updates
2021.02.02: Update for v0.8.0.* game version.
2020.05.11: Update for v0.7.0.* game version.
2019.12.15: Update for v0.6.2.* game version.