Originally created by legendary game designer Sid Meier, Civilization is a turn-based strategy game in which you attempt to build an empire to stand the test of time. Become Ruler of the World by establishing and leading a civilization from the Stone Age to the Information Age. Wage war, conduct diplomacy, advance your culture, and go head-to-head with history's greatest leaders as you attempt to build the greatest civilization the world has ever known.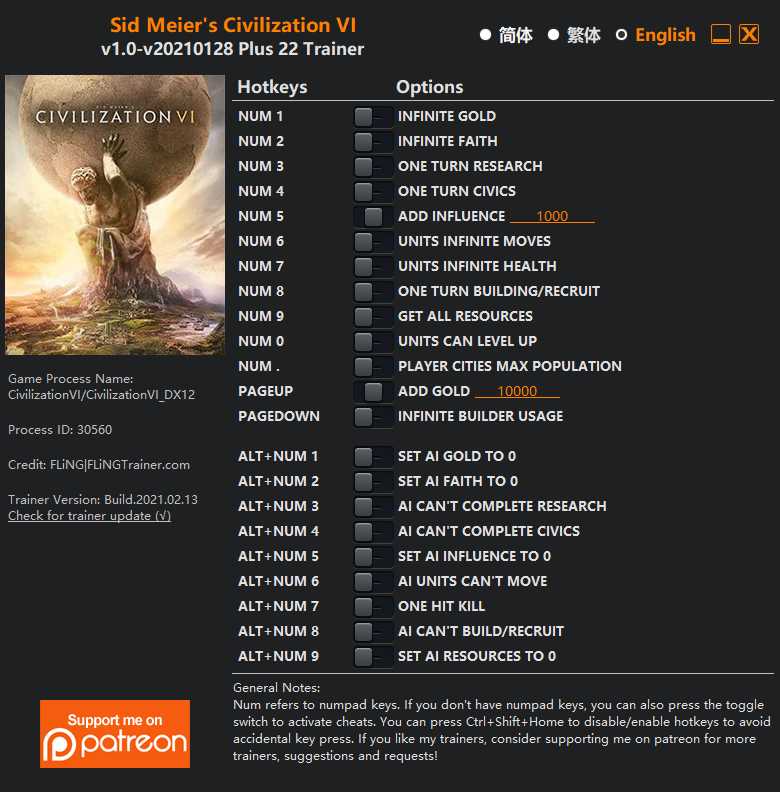 22 Options · Game Version: v1.0-v20210128+ · Last Updated: 2021.02.13
Options
Num 1 – Infinite Gold
Num 2 – Infinite Faith
Num 3 – One Turn Research
Num 4 – One Turn Civics
Num 5 – Add Influence
Num 6 – Units Infinite Moves
Num 7 – Units Infinite Health
Num 8 – One Turn Building/Recruit
Num 9 – Get All Resources
Num 0 – Units Can Level Up
Num . – Player Cities Max Population
PageUp – Add Gold
PageDown – Infinite Builder Usage
Alt+Num 1 – Set AI Gold To 0
Alt+Num 2 – Set AI Faith To 0
Alt+Num 3 – AI Can't Complete Research
Alt+Num 4 – AI Can't Complete Civics
Alt+Num 5 – Set AI Influence To 0
Alt+Num 6 – AI Units Can't Move
Alt+Num 7 – One Hit Kill
Alt+Num 8 – AI Can't Build/Recruit
Alt+Num 9 – Set AI Resources To 0
Notes
Gold, faith, influence, resource, population options take effects during turn change.
"Add Influence": Note every 100 influences will give you 1 envoy.
"One Hit Kill" only work for units, not buildings.
Updates
2021.02.13: Update for v20210128 game version.
2020.11.20: Update for v20201119 game version.
2020.10.24: Update for v20201022 game version.
2020.06.01: Update for v20200521 game version.