Sniper Ghost Warrior Contracts 2 marks the most challenging entry to the acclaimed series yet, introducing extreme long-range sniping with targets over 1000m away. Featuring a dramatic single-player campaign set in modern day Middle East, experience high-pressure tactical combat, deep inside enemy territory.
Take on the role of Raven, Contract Sniper Assassin, as he embarks on a new series of contracts in a lawless region of the Middle East, located along the Lebanese and Syrian borders. Tasked with a seemingly impossible task, your mission is to topple an insidious criminal syndicate and bring them to justice.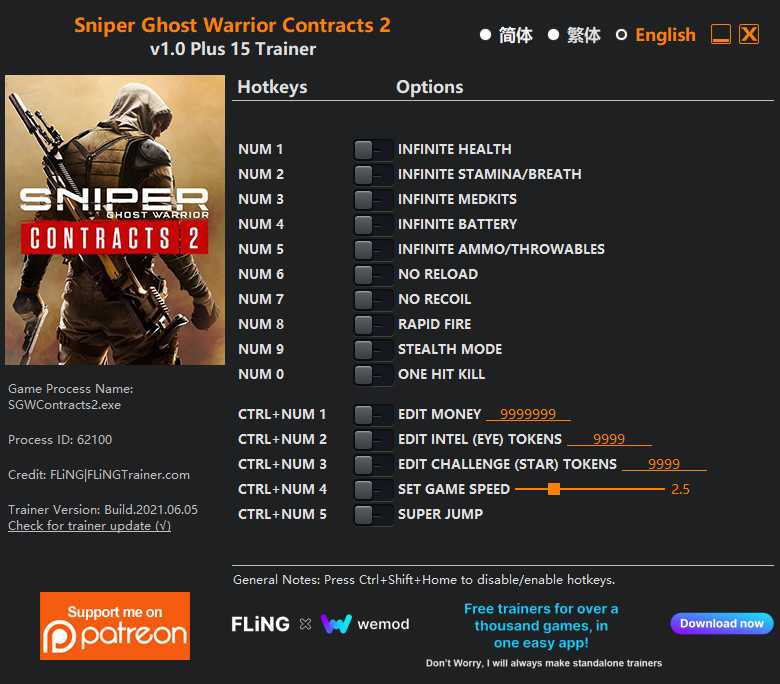 15 Options · Game Version: v1.0+ · Last Updated: 2021.06.05
Options
Num 1 – Infinite Health
Num 2 – Infinite Stamina/Breath
Num 3 – Infinite Medkits
Num 4 – Infinite Battery
Num 5 – Infinite Ammo/Throwables
Num 6 – No Reload
Num 7 – No Recoil
Num 8 – Rapid Fire
Num 9 – Stealth Mode
Num 0 – One Hit Kill
Ctrl+Num 1 – Edit Money
Ctrl+Num 2 – Edit Intel (Eye) Tokens
Ctrl+Num 3 – Edit Challenge (Star) Tokens
Ctrl+Num 4 – Set Game Speed
Ctrl+Num 5 – Super Jump
Notes
"Infinite Medkits": Takes effect when you use medkits.
"Infinite Ammo/Throwables": Takes effect when you reload or use throwables.