Fulfill contracts that offer clear objectives with a fixed monetary reward and options to complete bonus challenges for payouts. With hundreds of ways to take down a wide range of targets, Contracts offers precise, strategic sniping gameplay at its absolute best.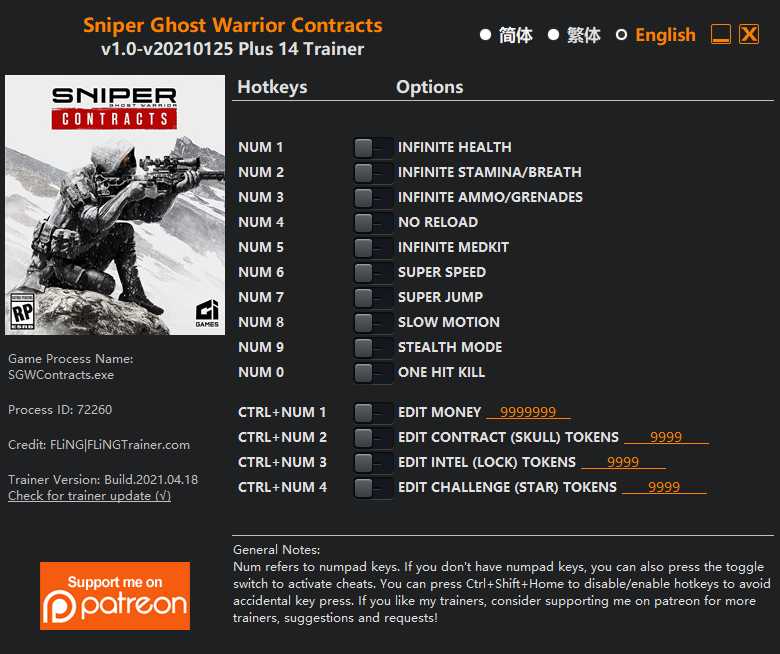 14 Options · Game Version: v1.0-v20210125+ · Last Updated: 2021.04.18
Options
Num 1 – Infinite Health
Num 2 – Infinite Stamina/Breath
Num 3 – Infinite Ammo/Grenades
Num 4 – No Reload
Num 5 – Infinite Med Kits
Num 6 – Super Speed
Num 7 – Super Jump
Num 8 – Slow Motion
Num 9 – Stealth Mode
Num 0 – One Hit Kill
Ctrl+Num 1 – Edit Money
Ctrl+Num 2 – Edit Contract (Skull) Tokens
Ctrl+Num 3 – Edit Intel (Lock) Tokens
Ctrl+Num 4 – Edit Challenge (Star) Tokens
Notes
"Infinite Med Kits" takes effect when you use med kit.
"Edit Money" and "Edit xxx Tokens": Activate in main menu, then go to contracts menu to see the values change. If you activate them during mission, the values may reset after you complete the mission.
"Infinite Ammo/Grenades": Takes effect when you reload/use grenades.
Special Notes
This game uses EasyAntiCheat protection, in order to launch this game without EAC, please follow these instructions:
Start steam in offline mode.
Copy "Launch_Game.exe" to game directory.
Start game.
Updates
2021.04.18: Update for v20210125 game version.
2019.12.19: Update for v20191219 game version.
2019.12.07: Update for v1.04 game version.
2019.11.29: Update for v1.03 game version.