Master the art of starfighter combat in the authentic piloting experience STAR WARS™: Squadrons. Buckle up and feel the adrenaline of first-person, multiplayer space dogfights alongside your squadron. Pilots who enlist will step into the cockpits of starfighters from both the New Republic and Imperial fleets and fight in strategic 5v5 space battles. Modify your starfighter, and adjust the composition of your squadron to suit varying playstyles and crush the opposition. Pilots will triumph as a team and complete tactical objectives across known and never-before-seen battlefields, including the gas giant of Yavin Prime and the shattered moon of Galitan. Take control of starfighters such as the X-wing and TIE fighter. Customize loadouts and cosmetics. Divert power between weapons, shields, and engines while immersing yourself in the cockpit. In addition, players will have the option to play the entirety of the game in virtual reality (VR)!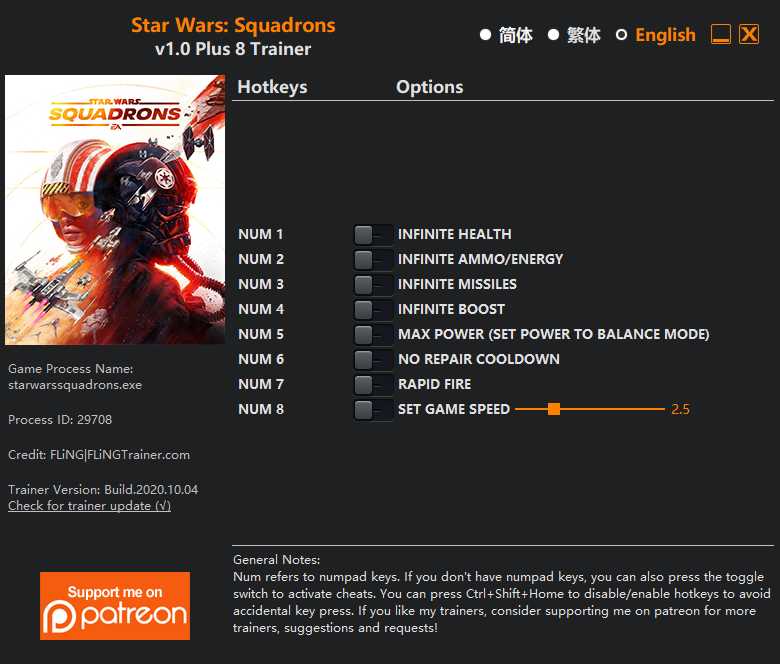 8 Options · Game Version: v1.0+ · Last Updated: 2020.10.04
Note: Story mode only.
Options
Num 1 – Infinite Health
Num 2 – Infinite Ammo/Energy
Num 3 – Infinite Missiles
Num 4 – Infinite Boost
Num 5 – Max Power (Set Power To Balance Mode)
Num 6 – No Repair Cooldown
Num 7 – Rapid Fire
Num 8 – Set Game Speed
Notes
"Max Power" takes effect when you set power to balance mode. If you want to disable and restore the effect, set power to balance mode again after disabling this option.
"No Repair Cooldown": Note this option should activate before repair.
Special Notes
This game uses EasyAntiCheat protection, in order to launch this game without EAC, please follow these instructions:
1. Copy "starwarssquadrons_launcher.exe" to the game's directory.
2. Start game.