The next chapter in Firefly Studios' real-time strategy series, Stronghold: Warlords is the first game to recreate the castle economies of East Asia. In Warlords players take command of Mongol hordes, imperial warriors and samurai clansmen as they lay siege to Japanese castles and fortified Chinese cities. Besiege historical warlords using new gunpowder-fuelled siege weapons across 31 campaign missions, 10 skirmish trail scenarios, 16 multiplayer maps, skirmish mode and Free Build sandbox.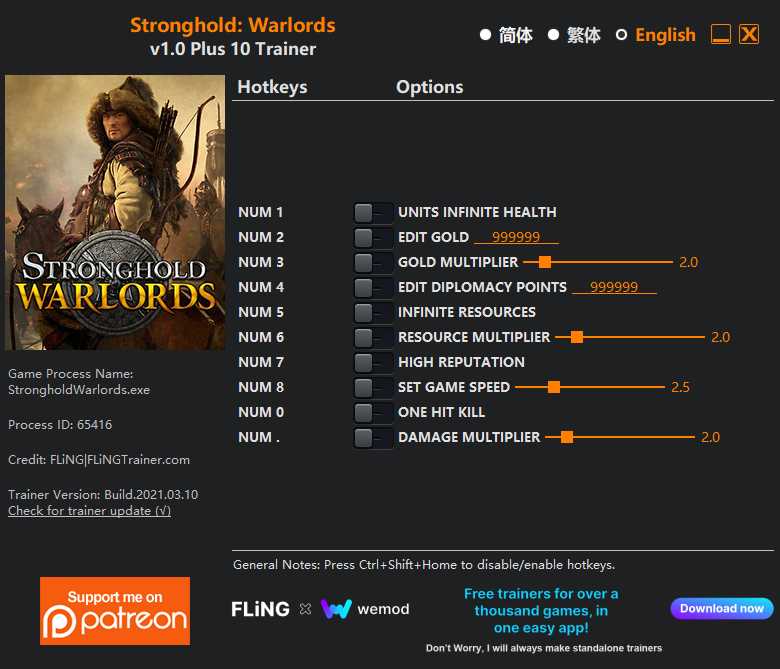 10 Options · Game Version: v1.0+ · Last Updated: 2021.03.10
Options
Num 1 – Units Infinite Health
Num 2 – Edit Gold
Num 3 – Gold Multiplier
Num 4 – Edit Diplomacy Points
Num 5 – Infinite Resources
Num 6 – Resource Multiplier
Num 7 – High Reputation
Num 8 – Set Game Speed
Num 0 – One Hit Kill
Num . – Damage Multiplier
Notes
"Units Infinite Health": Takes effect when units get hit.
"Infinite Resources": Takes effect when resource quantities change.