Kirito awakens in a completely unknown virtual world, but something about it feels a bit familiar…
Set in Underworld, an expansive world introduced in the SWORD ART ONLINE anime, Kirito sets out on adventure in the series' latest RPG!
Enjoy seamless, action-packed real-time battles using a combination of sword skills, sacred arts, and your favorite SAO characters!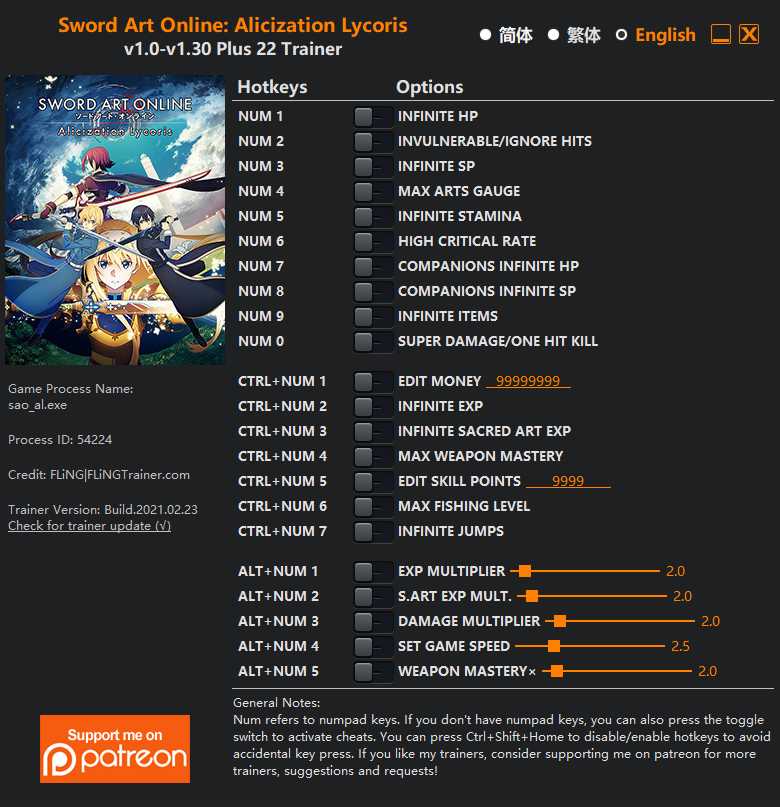 22 Options · Game Version: v1.0-v1.30+ · Last Updated: 2021.02.23
Options
Num 1 – Infinite HP
Num 2 – Invulnerable/Ignore Hits
Num 3 – Infinite SP
Num 4 – Max Arts Gauge
Num 5 – Infinite Stamina
Num 6 – High Critical Rate
Num 7 – Companions Infinite HP
Num 8 – Companions Infinite SP
Num 9 – Infinite Items
Num 0 – Super Damage/One Hit Kill
Ctrl+Num 1 – Edit Money
Ctrl+Num 2 – Infinite Exp
Ctrl+Num 3 – Infinite Sacred Art Exp
Ctrl+Num 4 – Max Weapon Mastery
Ctrl+Num 5 – Edit Skill Points
Ctrl+Num 6 – Max Fishing Level
Ctrl+Num 7 – Infinite Jumps
Alt+Num 1 – Exp Multiplier
Alt+Num 2 – Sacred Art Exp Multiplier
Alt+Num 3 – Damage Multiplier
Alt+Num 4 – Set Game Speed
Alt+Num 5 – Weapon Mastery Multiplier
Notes
"Infinite Items" takes effect when you select or spend an item.
"Infinite Exp" and "Infinite Sacred Art Exp" take effects when you gain exp. Note when you kill low level monsters you may not gain any exp, thus these options will not work.
"Max Weapon Mastery" takes effect when opening the weapon mastery menu or when you gain weapon mastery.
Updates
2021.02.23: Update for v1.30 game version.
2020.07.22: Update for v1.09 game version.
2020.07.22: Added "Infinite Jumps" and "Weapon Mastery Multiplier" options; Lowered the value of "Infinite Items" so you can pick up items; Update for v1.0.3 game version.
Special Notes
This game uses EasyAntiCheat protection, in order to launch this game without EAC, please follow these instructions:
Method 1:
1. Start steam in offline mode.
2. Copy "Launch_Game.exe" to game directory.
3. Start game.
Method 2:
When launching the game from steam, you may see two launch options, choose Play " Single Play Mode (Disable EAC) " to disable EAC.