From SoulGame Studio, creators of the wildly popular Swords & Souls, comes an all new, even bigger standalone adventure to an island far across the sea. In Swords & Souls: Neverseen you find yourself shipwrecked and caught up in a struggle between a dangerous witch and some decidedly kooky townsfolk. To stop the witch, you'll need to train, fight, train, and fight some more in this addictive single-player combat-focused game that rewards player skill and juicy progression.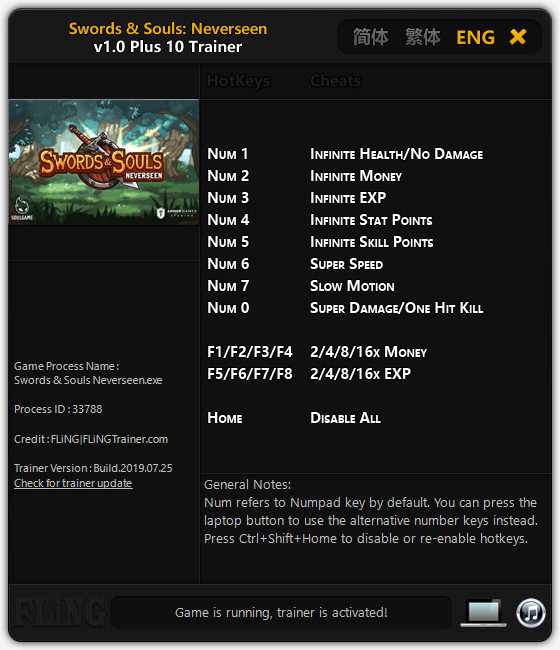 10 Options · Game Version: v1.0+ · Last Updated: 2019.07.25
Options
Num 1 – Infinite Health/No Damage
Num 2 – Infinite Money
Num 3 – Infinite EXP
Num 4 – Infinite Stat Points
Num 5 – Infinite Skill Points
Num 6 – Super Speed
Num 7 – Slow Motion
Num 0 – Super Damage/One Hit Kill
F1/F2/F3/F4 – 2/4/8/16x Money
F5/F6/F7/F8 – 2/4/8/16x EXP
Home – Disable All
Notes
Important: Complete the tutorial before using any cheats! Otherwise, you might not be able to get pass the tutorial (for example: you need to lose the first battle, otherwise you can't go to the training area).
"Infinite Money" takes effect when you gain money; "Infinite EXP" takes effect when you gain EXP.