ROME REMASTERED brings the classic Rome visuals up to date, with 4K optimization**, ultra-widescreen and native UHD resolution** support. This visual upgrade extends across a multitude of features, including re-modelled buildings and objects, and environmental effects like dust clouds and heat haze. The refreshed campaign maps also boast new high-resolution models, and units have been remodelled and retextured to look their very best on the battlefield.
ROME REMASTERED includes a host of modern features and improvements to existing mechanics. The in-game camera has been enhanced, including map rotation and wider zoom level in Campaign mode. Heat maps and new icon overlays have been added for gameplay mechanics such as diplomacy and security. In Battle, the new tactical map, unit displays and range markers give you greater command over Rome's battlefields.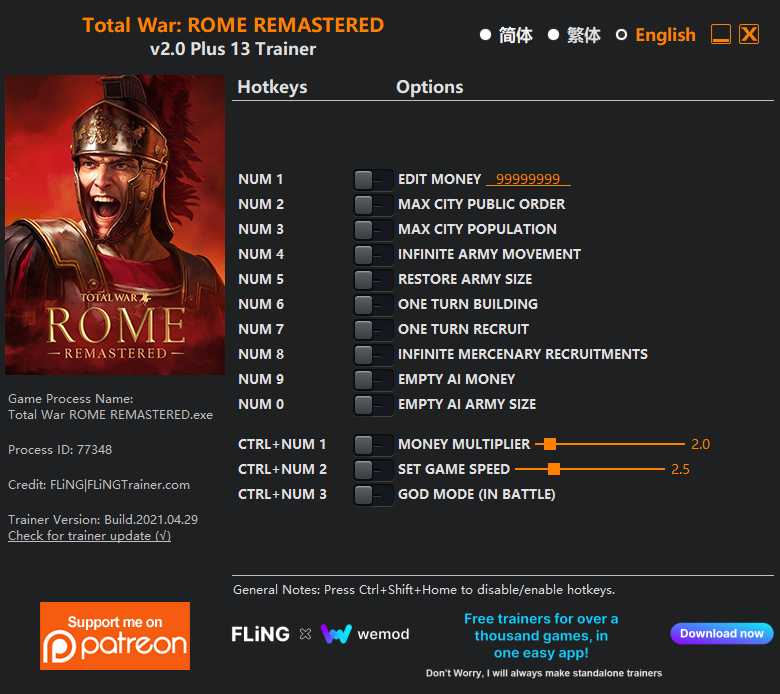 13 Options · Game Version: v2.0+ · Last Updated: 2021.04.30
Options
Num 1 – Edit Money
Num 2 – Max City Public Order
Num 3 – Max City Population
Num 4 – Infinite Army Movement
Num 5 – Restore Army Size
Num 6 – One Turn Building
Num 7 – One Turn Recruit
Num 8 – Infinite Mercenary Recruitments
Num 9 – Empty AI Money
Num 0 – Empty AI Army Size
Ctrl+Num 1 – Money Multiplier
Ctrl+Num 2 – Set Game Speed
Ctrl+Num 3 – God Mode (In Battle)
Notes
"Infinite Army Movement": Doesn't work for special units such as diplomat and spy, unless you merge them with an army.
"One Turn Building": Activate before choosing buildings.
"One Turn Recruit": Activate before choosing units.
"God Mode (In Battle)": Select one of your units in order to work.