A battle-slain warrior, the Valkyries have ferried your soul to Valheim, the tenth Norse world. Besieged by creatures of chaos and ancient enemies of the gods, you are the newest custodian of the primordial purgatory, tasked with slaying Odin's ancient rivals and bringing order to Valheim.
Your trials begin at the disarmingly peaceful centre of Valheim, but the gods reward the brave and glory awaits. Venture forth through imposing forests and snow-capped mountains, explore and harvest more valuable materials to craft deadlier weapons, sturdier armor, viking strongholds and outposts. Build a mighty longship and sail the great oceans in search of exotic lands … but be wary of sailing too far…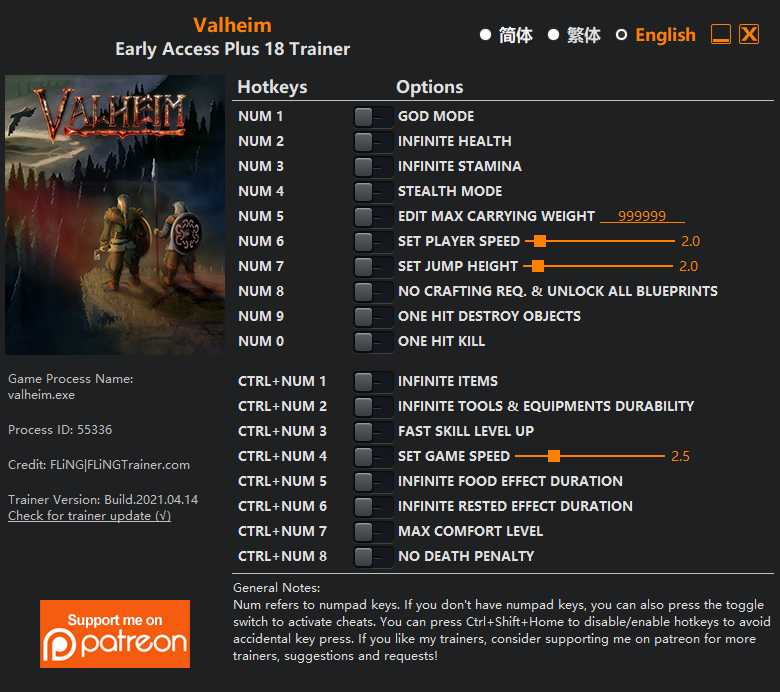 18 Options · Game Version: Early Access · Last Updated: 2021.04.14
Options
Num 1 – God Mode
Num 2 – Infinite Health
Num 3 – Infinite Stamina
Num 4 – Stealth Mode
Num 5 – Edit Max Carrying Weight
Num 6 – Set Player Speed
Num 7 – Set Jump Height
Num 8 – No Crafting Requirements & Unlock All Blueprint
Num 9 – One Hit Destroy Objects
Num 0 – One Hit Kill
Ctrl+Num 1 – Infinite Items
Ctrl+Num 2 – Infinite Tools & Equipments Durability
Ctrl+Num 3 – Fast Skill Level Up
Ctrl+Num 4 – Set Game Speed
Ctrl+Num 5 – Infinite Food Effect Duration
Ctrl+Num 6 – Infinite Rested Effect Duration
Ctrl+Num 7 – Max Comfort Level
Ctrl+Num 8 – No Death Penalty
Notes
"Set Jump Height": Note you may receive fall damage, use with "God Mode" or "Infinite Health".
"Fast Skill Level Up": When activated, your skills will level up every time they gain XP.
Updates
2021.04.14: Added more options; Support for modded game versions.