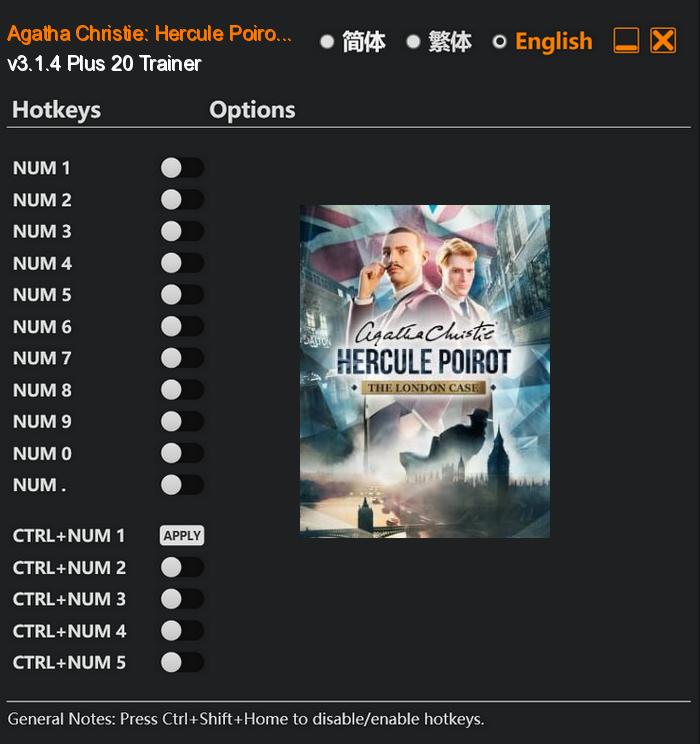 In "Agatha Christie: Hercule Poirot – The London Case," players step into the shoes of the famous Belgian detective, Hercule Poirot, as he uncovers a tangled web of crime in the bustling streets of London. Set in the atmospheric and gritty backdrop of 1920s London, this captivating video game brings to life Agatha Christie's iconic characters, complex puzzles, and a captivating mystery that will leave players on the edge of their seats.
With a multitude of locations to explore, including opulent mansions, dimly lit back alleys, bustling train stations, and prestigious clubs, players will unravel a complex and sinister plot. Every clue and conversation will be crucial in piecing together the truth, and each decision made could have far-reaching consequences.
Special Notes:
In order to use this trainer, you will need to downgrade your game to a previous game version.
Extract and copy Agatha Christie: Hercule Poirot – The London Case.exe to your game's root folder and overwrite existing file (Back up original file if needed).
Download:
Medias: