In a world of myth and magic, those who aspire to immortality devote their lives to the sacred path of cultivation. They gather around sects, institutions which train their bodies, minds and souls to be worth eternal life. But in return for such great power, you must be willing to guard the balance between good and evil — no matter the cost.
Unfortunately, greed is inherent to human nature, so it also blinds cultivators. Your master didn't realize until it was too late, and the Taiyi Sect burnt to the ground for his mistake. Your brothers and sisters will never come back, but the Taiyi Sect can still be reborn from its ashes. Its seeds are scattered around Tiancang, waiting for you to find them. This is what your grandmaster would have wanted. You must do it for him ─ and for all those we sworn to protect.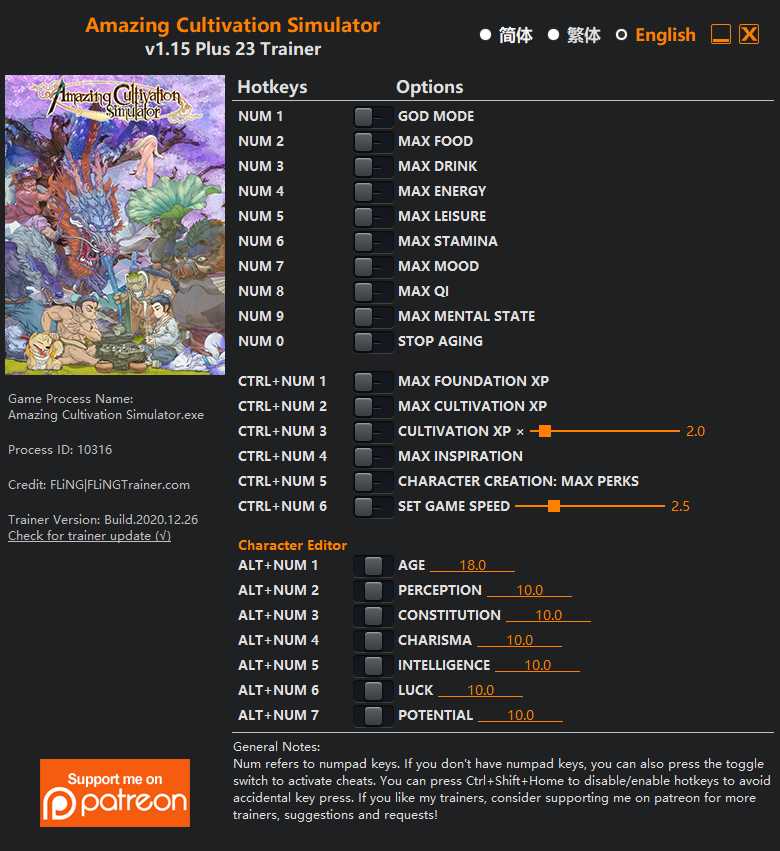 23 Options · Game Version: v1.15+ · Last Updated: 2020.12.26
Options
Num 1 – God Mode
Num 2 – Max Food
Num 3 – Max Drink
Num 4 – Max Energy
Num 5 – Max Leisure
Num 6 – Max Stamina
Num 7 – Max Mood
Num 8 – Max Qi
Num 9 – Max Mental State
Num 0 – Stop Aging
Ctrl+Num 1 – Max Foundation XP
Ctrl+Num 2 – Max Cultivation XP
Ctrl+Num 3 – Cultivation XP Multiplier
Ctrl+Num 4 – Max Inspiration
Ctrl+Num 5 – Character Creation: Max Perks
Ctrl+Num 6 – Set Game Speed
Character Editor
Alt+Num 1 – Age
Alt+Num 2 – Perception
Alt+Num 3 – Constitution
Alt+Num 4 – Charisma
Alt+Num 5 – Intelligence
Alt+Num 6 – Luck
Alt+Num 7 – Potential
Notes
"Max Foundation XP" takes effect when you gain foundation XP.
"Max Cultivation XP" takes effect when you gain cultivation XP.
Character Editor works for the selected character.