The PIRATE WARRIORS series has successfully combined the popular anime ONE PIECE with the thrilling action of the WARRIORS series to create a worldwide phenomenon selling more than four million copies!
Based on the concept of "fighting hordes of enemies while adventuring with trusted allies," experience awesome ONE PIECE action lifted straight from the anime!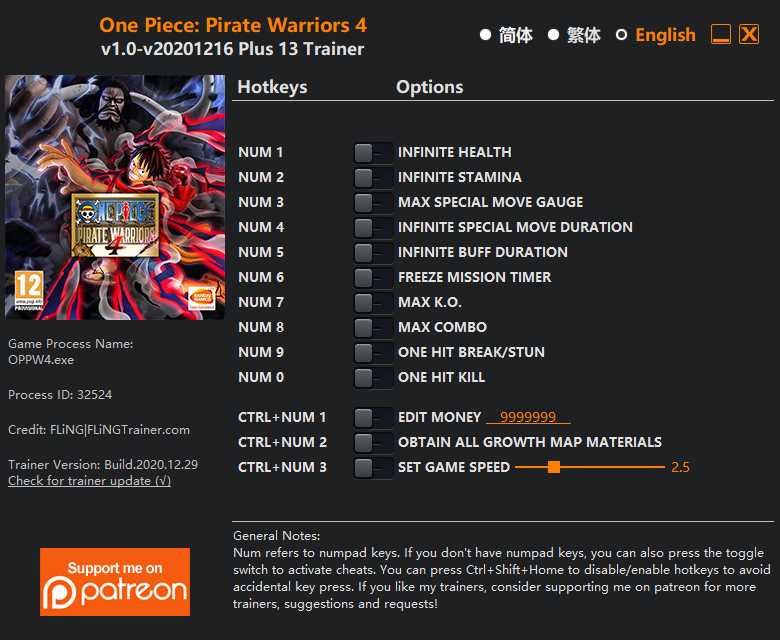 13 Options · Game Version: v1.0-v20201216+ · Last Updated: 2020.12.29
Options
Num 1 – Infinite Health
Num 2 – Infinite Stamina
Num 3 – Max Special Move Gauge
Num 4 – Infinite Special Move Duration
Num 5 – Infinite Buff Duration
Num 6 – Freeze Mission Timer
Num 7 – Max K.O.
Num 8 – Max Combo
Num 9 – One Hit Break/Stun
Num 0 – One Hit Kill
Ctrl+Num 1 – Edit Money
Ctrl+Num 2 – Obtain All Growth Map Materials
Ctrl+Num 3 – Set Game Speed
Notes
"Edit Money" and "Obtain All Growth Map Materials" take effects when opening the growth map.
"Freeze Mission Timer": note some events require time to pass in order to trigger. Disable this option when necessary.
Updates
2020.12.29: Update for v20201216 game version.
2020.07.22: Update for v20200720 game version.