Welcome to the dawn of the Industrial Age. The path you choose will define your world. Are you an innovator or an exploiter? An oppressor or a liberator? How the world remembers your name is up to you.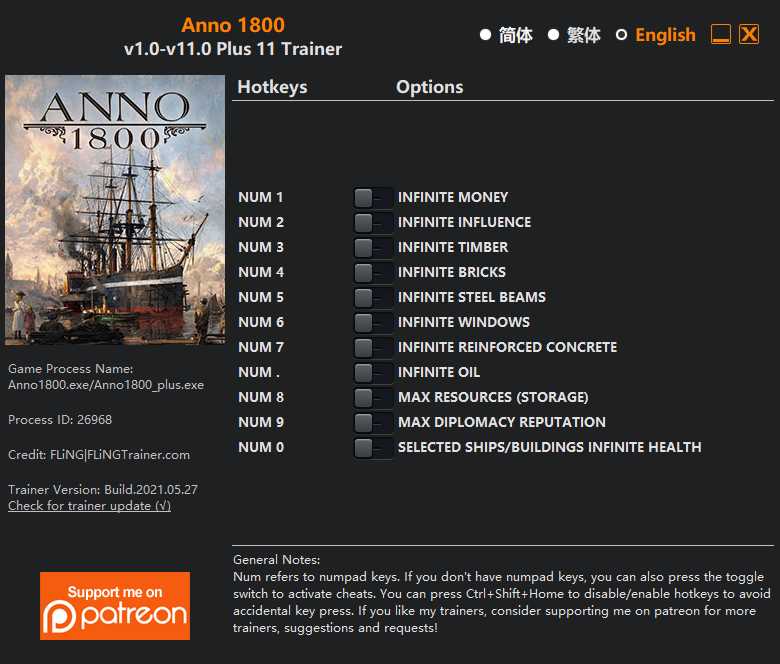 11 Options · Game Version: v1.0-v11.0+ · Last Updated: 2021.05.27
Options
Num 1 – Infinite Money
Num 2 – Infinite Influence
Num 3 – Infinite Timber
Num 4 – Infinite Bricks
Num 5 – Infinite Steel Beams
Num 6 – Infinite Windows
Num 7 – Infinite Reinforced Concrete
Num . – Infinite Oil
Num 8 – Max Resources (Storage)
Num 9 – Max Diplomacy Reputation
Num 0 – Selected Ships/Buildings Infinite Health
Notes
"Max Resources" takes effect when you click on buildings that store resources.
"Infinite Timber", "Infinite Bricks", "Infinite Steel Beams", "Infinite Windows", "Infinite Reinforced Concrete" take effects when their icons are displayed.
Updates
2021.05.27: Update for v11.0 game version.
2021.02.24: Update for v10.0 game version; Added "Infinite Oil" option.
2021.01.06: Update for v9.2 game version; Support for Uplay Plus game version.
2020.10.24: Update for v9.0 game version.
2020.05.08: Update for v7.3 game version.
2020.03.25: Update for v20200324 game version.
2019.12.11: Update for v20191210 game version.