Once again, the hands of the clock have begun to move…
And the future of "this world" rests on the shoulders of a single girl.
The long awaited 4th installment of the popular "Arland" series that had begun with the "Atelier Rorona"!
In this new story, players will revisit the nostalgic world of Arland and embark on exciting journey of alchemy together with Rorona's daughter, Lulua.
The dream of this young girl living in the small town on the border of the Arland Republic is to overcome her legendary mother in the mastery of alchemy.
Unravel the future that awaits her beyond the mystery of this "ancient manuscript" and join Lulua and her companions on a new adventure through Arland!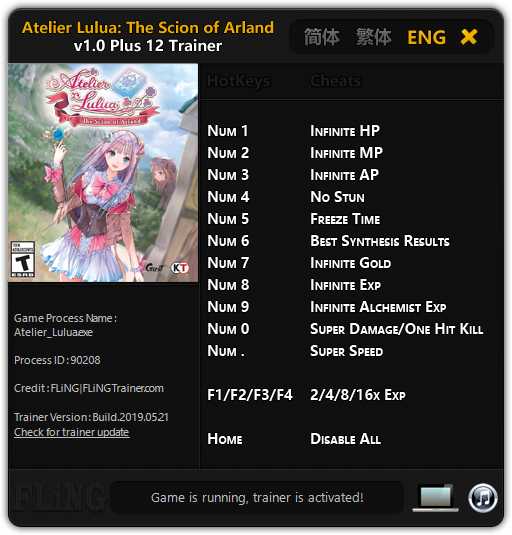 Options
Num 1 – Infinite HP
Num 2 – Infinite MP
Num 3 – Infinite AP
Num 4 – No Stun
Num 5 – Freeze Time
Num 6 – Best Synthesis Results
Num 7 – Infinite Gold
Num 8 – Infinite Exp
Num 9 – Infinite Alchemist Exp
Num 0 – Super Damage/One Hit Kill
Num . – Super Speed
F1/F2/F3/F4 – 2/4/8/16x Exp
Home – Disable All
Notes
When "Super Damage/One Hit Kill" is activated, it will remain activated throughout the entire battle. If you want to disable this options, the effect will be restored in the next battle.