Travel to exotic locations around the world and experience rich and detailed environments that are packed full of opportunities. From a high-powered car race in Miami to the hot streets of Mumbai and the dangerous Colombian rainforests, each HITMAN 2 location has been meticulously crafted with an extremely high level of fidelity.
You're in full control and the world will react to whatever you do. Use stealth techniques, improvisation and all your creativity to take down your targets in spectacular and ingenious ways utilizing an assortment of tools, weapons and unexpected disguises.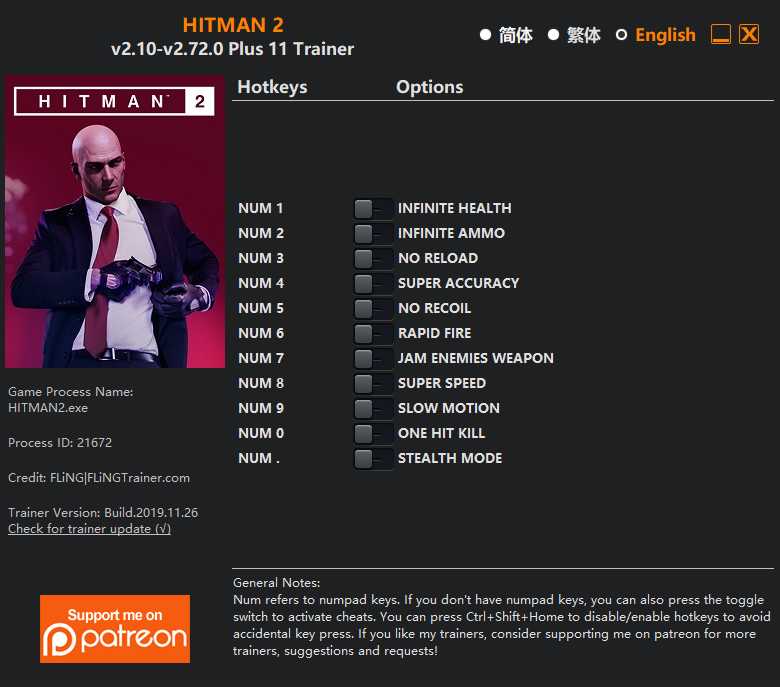 11 Options · Game Version: v2.10-v2.72.0+ · Last Updated: 2019.11.26
Options
Num 1 – Infinite Health
Num 2 – Infinite Ammo
Num 3 – No Reload
Num 4 – Super Accuracy
Num 5 – No Recoil
Num 6 – Rapid Fire
Num 7 – Jam Enemies Weapon
Num 8 – Super Speed
Num 9 – Slow Motion
Num 0 – One Hit Kill
Num . – Stealth Mode
Notes
"Infinite Ammo" takes effect when you reload.
"Stealth Mode": If you are already in battle before activating this option , you'll need to exit battle to have stealth effect. Note while in stealth mode, you may not be able to accept some challenges, disable this option when you want to do challenges.