This is the ultimate Battlefield V experience. Enter mankind's greatest conflict across land, air, and sea with all gameplay content unlocked from the get-go. Choose from the complete arsenal of weapons, vehicles, and gadgets, and immerse yourself in the hard-fought battles of World War II. Stand out on the battlefield with the complete roster of Elites and the best customization content of Year 1 and Year 2.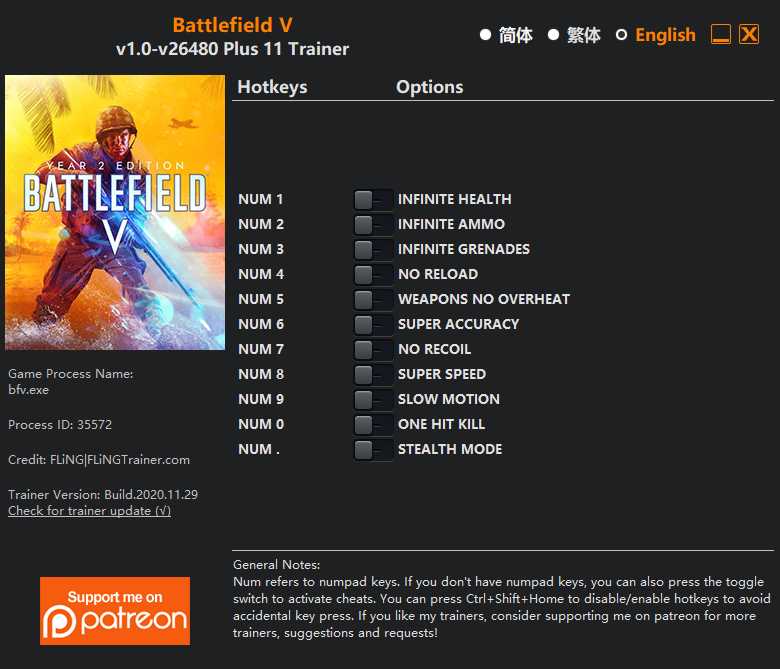 11 Options · Game Version: Steam/Origin v1.0-v26480+ · Last Updated: 2020.11.29
Note: Story mode only.
Options
Num 1 – Infinite Health
Num 2 – Infinite Ammo
Num 3 – Infinite Grenades
Num 4 – No Reload
Num 5 – Weapons No Overheat
Num 6 – Super Accuracy
Num 7 – No Recoil
Num 8 – Super Speed
Num 9 – Slow Motion
Num 0 – One Hit Kill
Num . – Stealth Mode
Notes
"Infinite Grenades" takes effect when throwing grenades.
Updates
2020.11.29: Update for v26480 game version.
2020.08.14: Update for v26355 game version.