A foul curse has fallen upon the land of Cvstodia and all its inhabitants – it is simply known as The Miracle.
Play as The Penitent One – a sole survivor of the massacre of the 'Silent Sorrow'. Trapped in an endless cycle of death and rebirth, it's down to you to free the world from this terrible fate and reach the origin of your anguish.
Explore this nightmarish world of twisted religion and discover its many secrets hidden deep inside. Use devastating combos and brutal executions to smite the hordes of grotesque monsters and titanic bosses, all ready to rip you limb from limb. Locate and equip relics, rosary beads and prayers that call on the powers of the heavens to aid you in your quest to break your eternal damnation.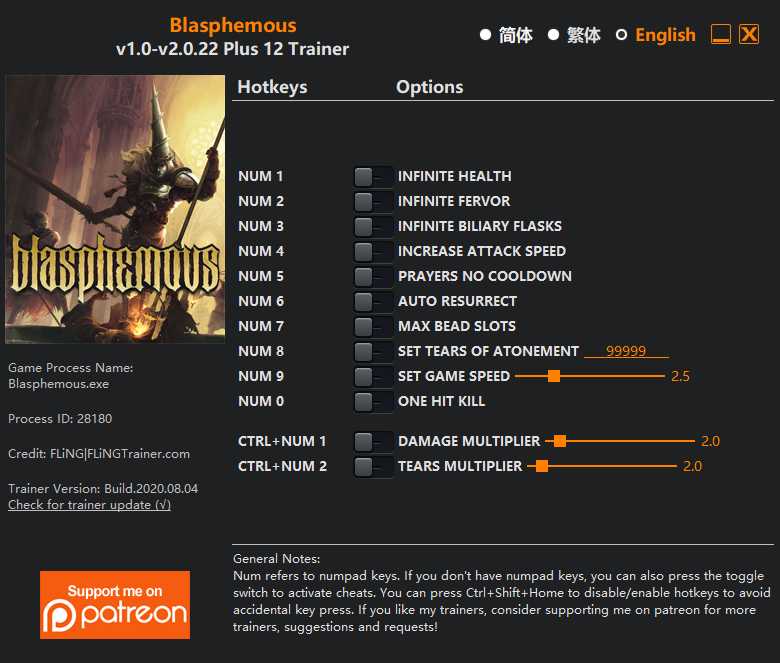 12 Options · Game Version: v1.0-v2.0.22+ · Last Updated: 2020.08.04
Options
Num 1 – Infinite Health
Num 2 – Infinite Fervor
Num 3 – Infinite Biliary Flasks
Num 4 – Increase Attack Speed
Num 5 – Prayers No Cooldown
Num 6 – Auto Resurrect
Num 7 – Max Bead Slots
Num 8 – Set Tears of Atonement
Num 9 – Set Game Speed
Num 0 – One Hit Kill
Ctrl+Num 1 – Damage Multiplier
Ctrl+Num 2 – Tears Multiplier
Notes
"Auto Resurrect", while activated, you will be resurrected at the same place where you die or the nearest ground if you fell off the cliff or death trap.
Updates
2020.08.04: Update for v2.0.22 game version.
2019.12.22: Update for v1.0.12 game version.