The cult-classic returns! Terrorize the people of 1950s Earth in the role of the evil alien Crypto-137. Harvest DNA and bring down the US government in the remake of the legendary alien invasion action adventure. Annihilate puny humans using an assortment of alien weaponry and psychic abilities. Reduce their cities to rubble with your flying Saucer! One giant step on mankind!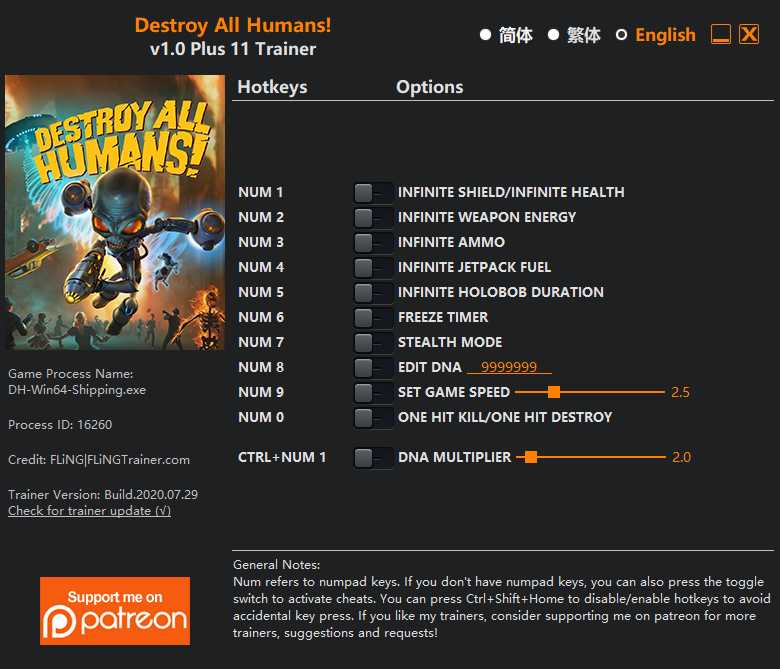 8 Options · Game Version: v1.0+ · Last Updated: 2020.07.29
Options
Num 1 – Infinite Shield/Infinite Health
Num 2 – Infinite Weapon Energy
Num 3 – Infinite Ammo
Num 4 – Infinite Jetpack Fuel
Num 5 – Infinite Holobob Duration
Num 6 – Freeze Timer
Num 7 – Stealth Mode
Num 8 – Edit DNA
Num 9 – Set Game Speed
Num 0 – One Hit Kill/One Hit Destroy
Ctrl+Num 1 – DNA Multiplier
Notes
"Stealth Mode": When enemies saw you, they will enter search mode instead of battle mode, but if you attack them, they will fight back.
"Edit DNA": Spend some DNA to see the value change.
"DNA Multiplier": Note the display DNA amount you're getting is not affected, but the actual amount is multiplied.