Command & Conquer and Red Alert defined the RTS genre 25 years ago and are now both fully remastered in 4K by the former Westwood Studios team members at Petroglyph Games. Includes all 3 expansion packs, rebuilt multiplayer, a modernized UI, Map Editor, bonus gallery of unreleased FMV footage, and over 7 hours of legendary remastered music by Frank Klepacki. Welcome back, Commander.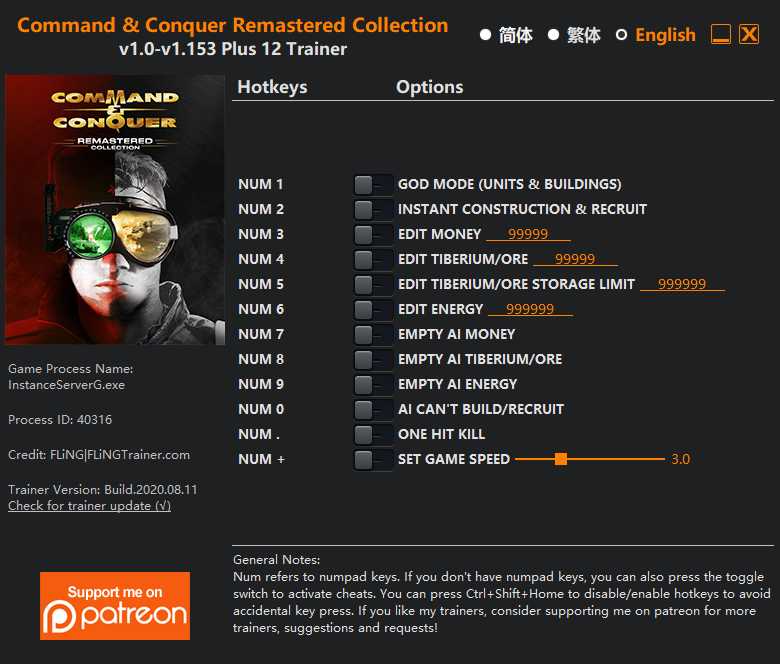 12 Options · Game Version: v1.0-v1.153+ · Last Updated: 2020.08.11
Options
Num 1 – God Mode (Units & Buildings)
Num 2 – Instant Construction & Recruit
Num 3 – Edit Money
Num 4 – Edit Tiberium/Ore
Num 5 – Edit Tiberium/Ore Storage Limit
Num 6 – Edit Energy
Num 7 – Empty AI Money
Num 8 – Empty AI Tiberium/Ore
Num 9 – Empty AI Energy
Num 0 – AI Can't Build/Recruit
Num . – One Hit Kill
Num + – Set Game Speed
Notes
Hotkeys and toggle buttons only active during battle (can't activate cheats in main menu/before battle).
This trainer works for both games in the remastered collection (Command & Conquer and Red Alert).
Updates
2020.08.11: Update for v1.153 game version.