From the Command & Conquer veterans at Petroglyph comes the first ever survival RTS set in the savage world of Conan the Barbarian. Play solo or team up in multiplayer in Conan Unconquered's action-packed co-op Mode where you build a shared stronghold and fend off the hordes together.
The people of Khoraja flourished during its years of peace and prosperity. But they also turned lazy and feeble. The devious and tyrannical wizard Thugra Khotan looks to seize this opportunity and is marching his army to claim your kingdom as his own. You must awaken your people from their apathy, you must build your city defenses and fend off armies of attacking monstrosities.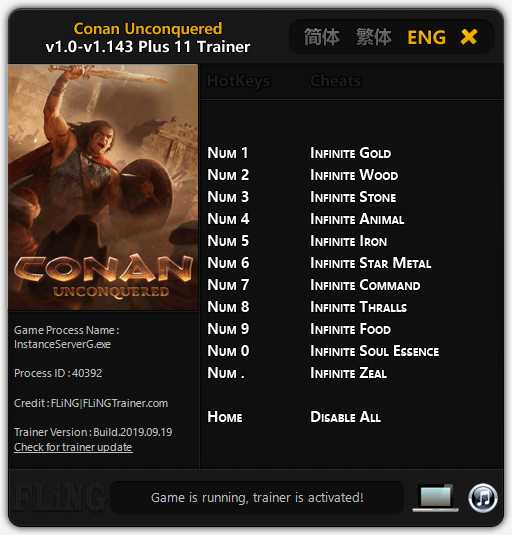 11 Options · Game Version: v1.0-v1.143+ · Last Updated: 2019.09.19
Options
Num 1 – Infinite Gold
Num 2 – Infinite Wood
Num 3 – Infinite Stone
Num 4 – Infinite Animal
Num 5 – Infinite Iron
Num 6 – Infinite Star Metal
Num 7 – Infinite Command
Num 8 – Infinite Thralls
Num 9 – Infinite Food
Num 0 – Infinite Soul Essence
Num . – Infinite Zeal
Home – Disable All
Notes
Work for single player mode only!
After activating any options, you need to wait for the game to refresh data in order to see the updated values. You can either build something or train soldiers or just simply wait for it to refresh.
Updates
2019.09.19: Support for v1.143 game version.