Control Ultimate Edition contains the main game and all previously released Expansions ("The Foundation" and "AWE") in one great value package.
A corruptive presence has invaded the Federal Bureau of Control…Only you have the power to stop it. The world is now your weapon in an epic fight to annihilate an ominous enemy through deep and unpredictable environments. Containment has failed, humanity is at stake. Will you regain control?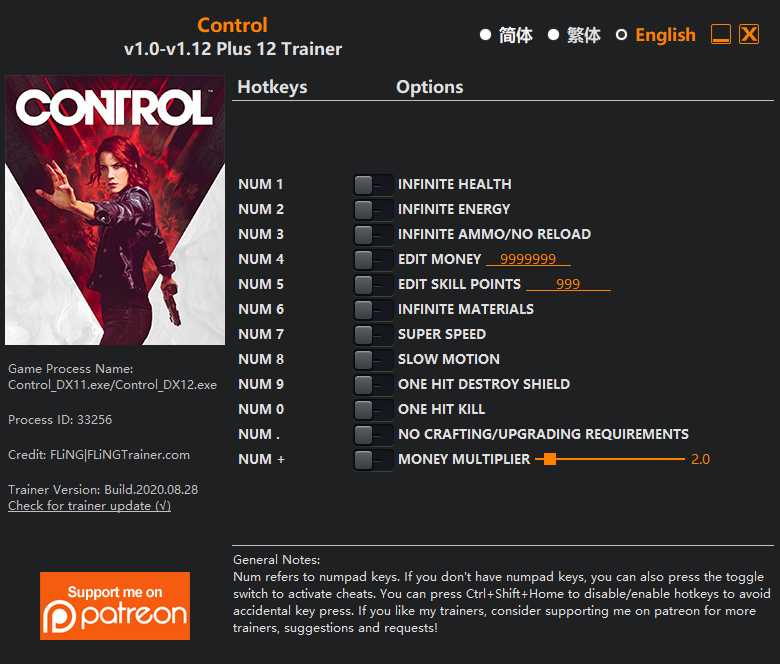 12 Options · Game Version: Steam/Epic Store v1.0-v1.12+ · Last Updated: 2020.08.28
Options
Num 1 – Infinite Health
Num 2 – Infinite Energy
Num 3 – Infinite Ammo/No Reload
Num 4 – Edit Money
Num 5 – Edit Skill Points
Num 6 – Infinite Materials
Num 7 – Super Speed
Num 8 – Slow Motion
Num 9 – One Hit Destroy Shield
Num 0 – One Hit Kill
Num . – No Crafting/Upgrading Requirements
Num + – Money Multiplier
Notes
"Infinite Health" takes effect when you take damage.
"Infinite Materials" only works for materials that you already obtained.
"No Crafting/Upgrading Requirements" should be activated before opening the crafting menu. Or click refresh mods if you are already in crafting menu. If you want to disable this option and restore the effects, you need to restart the game.
Updates
2020.08.28: Update for v1.12 game version; Supports steam game version.
2020.05.15: Update for v1.10 game version.