NBA 2K21 is the latest release in the world-renowned, best-selling NBA 2K series. With exciting improvements upon its best-in-class gameplay, competitive and community online features, and deep, varied game modes, NBA 2K21 offers one-of-a-kind immersion into all facets of NBA basketball and culture – where Everything is Game.
With enhancements across visual presentation, player AI, game modes, and much more, NBA 2K21 continues to push the boundaries as the most authentic, realistic basketball video game experience. Feel the energy of the crowd, the intensity of NBA competition, and the entertainment of the most immersive sports product in gaming today.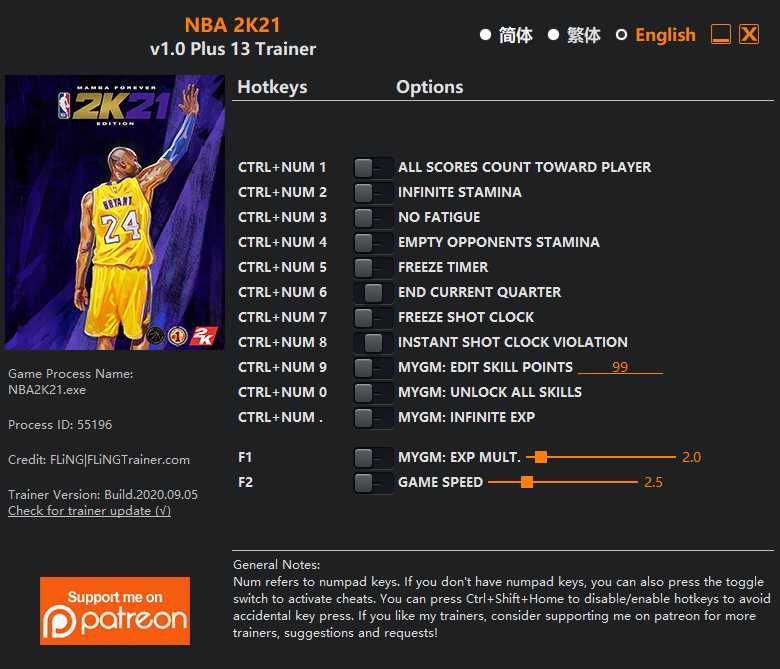 13 Options · Game Version: v1.0+ · Last Updated: 2020.09.05
Options
Ctrl+Num 1 – All Scores Count Toward Player
Ctrl+Num 2 – Infinite Stamina
Ctrl+Num 3 – No Fatigue
Ctrl+Num 4 – Empty Opponents Stamina
Ctrl+Num 5 – Freeze Timer
Ctrl+Num 6 – End Current Quarter
Ctrl+Num 7 – Freeze Shot Clock
Ctrl+Num 8 – Instant Shot Clock Violation
Ctrl+Num 9 – MyGM: Infinite Skill Points
Ctrl+Num 0 – MyGM: Unlock All Skills
Ctrl+Num . – MyGM: Infinite Exp
F1 – MyGM: Exp Multiplier
F2 – Game Speed Multiplier
Notes
"All Scores Count Toward Player", whenever a score is made, it will count toward the player you're currently controlling. It won't work if you're not controlling any player.
"MyGM: Infinite Exp" takes effect when you gain Exp.
All MyGM options only work in MyGM mode, NOT MyCareer mode.