Crying Suns is a tactical rogue-lite that puts you in the role of a space fleet commander as you explore a mysteriously fallen empire.
In this story rich experience inspired by Dune and Foundation, each successful run will uncover the truth about the Empire… and yourself as well.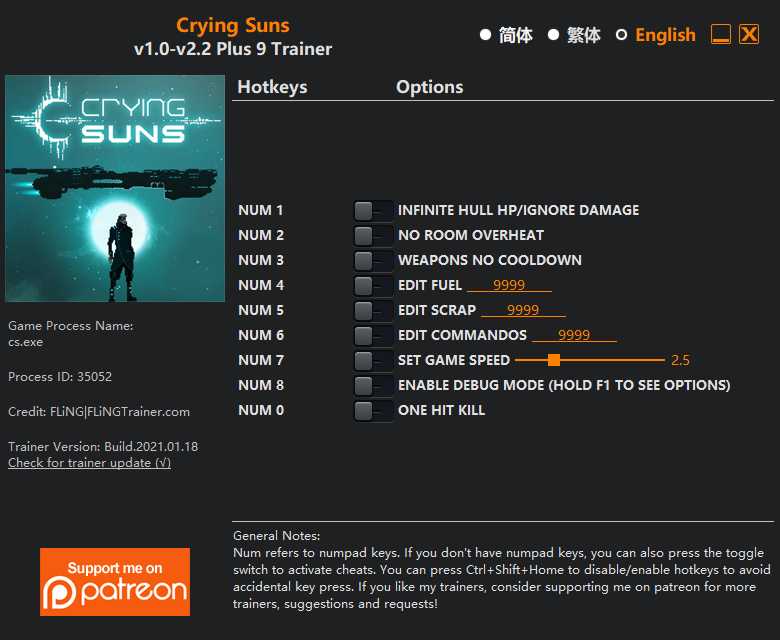 9 Options · Game Version: v1.0-v2.2+/64 Bit Version · Last Updated: 2021.01.18
Options
Num 1 – Infinite Hull HP/Ignore Damage
Num 2 – No Room Overheat
Num 3 – Weapons No Cooldown
Num 4 – Edit Fuel
Num 5 – Edit Scrap
Num 6 – Edit Commandos
Num 7 – Set Game Speed
Num 8 – Enable Debug Mode (Hold F1 To See Options)
Num 0 – One Hit Kill
Notes
"No Room Overheat": While activated, your battleship won't gain any heat when it takes damage, but if it's already on fire before activating this option, you'll still need to extinguish the fire.
"Edit Fuel/Scrap/Commandos": After activated, wait for the screen to update to see the values change.
"Enable Debug Mode": While activated, hold F1 in-game to display a list of in-game cheat options and hotkeys.
"One Hit Kill" works on the enemy's main battleship, not the smaller units.
Updates
2021.01.18: Update for v2.2.x game version, supports epic games store version.