Become the owner of the Library and receive your guests.
Your librarians will fight for the Library.
Combat between the guests and the librarians breaks out as if it were on a stage.
Defeated guests turn into books, and the Library grows onward.
A good book will allow you to invite new guests with greater secrets.
Amass a collection of books and explore the secrets of the City.
And eventually, get your hands on…
The one singular, perfect book.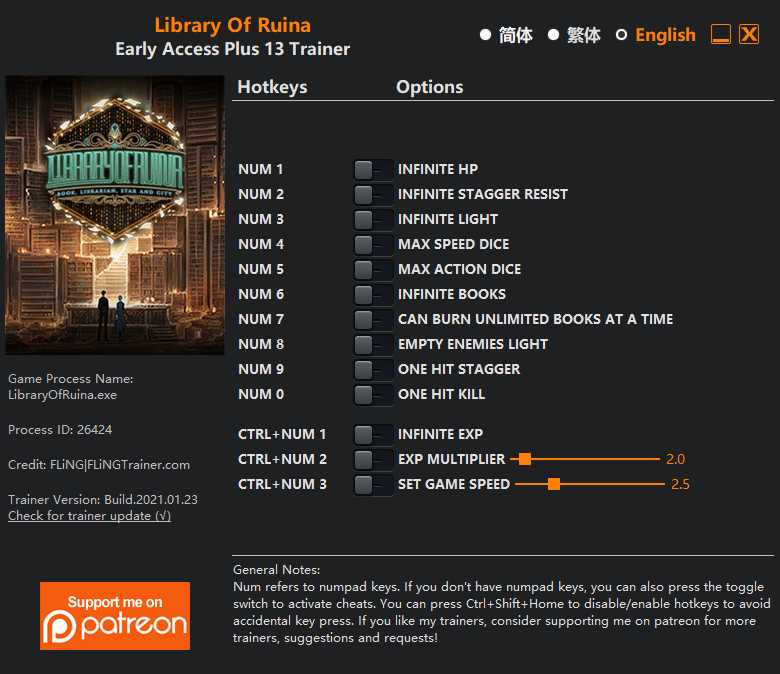 13 Options · Game Version: Early Access · Last Updated: 2021.01.23
Options
Num 1 – Infinite HP
Num 2 – Infinite Stagger Resist
Num 3 – Infinite Light
Num 4 – Max Speed Dice
Num 5 – Max Action Dice
Num 6 – Infinite Books
Num 7 – Can Burn Unlimited Books At A Time
Num 8 – Empty Enemies Light
Num 9 – One Hit Stagger
Num 0 – One Hit Kill
Ctrl+Num 1 – Infinite Exp
Ctrl+Num 2 – Exp Multiplier
Ctrl+Num 3 – Set Game Speed
Notes
"Infinite HP" and "Infinite Stagger Resist" take effects when you receive damage.
"Infinite Exp" takes effect when you gain exp.
"Exp Multiplier": Note the display gain value is not changed, the actual gain values is multiplied.
Updates
2020.01.23: Update for v1.0.3.11b game version.