You are an Outer, a new breed of human being that appeared in the aftermath of the Moonfall calamity. As a mercenary for the Orbital organization, you are on the front line of a desperate war for humanity's survival against the Immortals—corrupted AIs that have rebelled against their human creators. Piloting a fully customizable mech known as an Arsenal, you must team up with mercenaries like yourself and complete missions to defeat the Immortals once and for all. But be careful—in a war fought by mercenaries, today's allies can become tomorrow's enemies.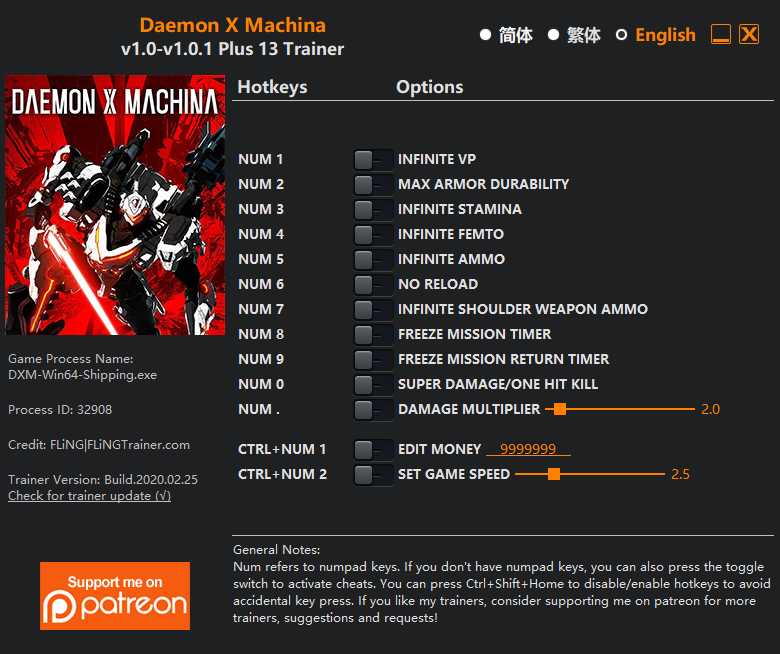 13 Options · Game Version: v1.0-v1.0.1 · Last Updated: 2020.02.25
Options
Num 1 – Infinite VP
Num 2 – Max Armor Durability
Num 3 – Infinite Stamina
Num 4 – Infinite FEMTO
Num 5 – Infinite Ammo
Num 6 – No Reload
Num 7 – Infinite Shoulder Weapon Ammo
Num 8 – Freeze Mission Timer
Num 9 – Freeze Mission Return Timer
Num 0 – Super Damage/One Hit Kill
Num . – Damage Multiplier
Ctrl+Num 1 – Edit Money
Ctrl+Num 2 – Set Game Speed
Notes
"Max Armor Durability" takes effect when you receive damage, the armor part that being damaged will restore its durability to max.
"Super Damage/One Hit Kill": Note this option also works on teammate/NPC.