Mai Toyama seeks an escape from her traumatic past. She enrolls at Wordsworth, an all-girl's dormitory situated in the small, mountainous town known as Le Choara where it was rumored that her sister, Sanae, was last seen. Hopeful, Mai seeks to find her kin, but she soon finds terrifying inhabitants which lurk throughout the town after dark. At night, Le Choara's streets are filled with Shadow Matter—a horrific group of menacing creatures. Around every cobblestone corner, Mai discovers that her hope of finding her sister lies beneath the long-buried secrets which haunt Le Choara.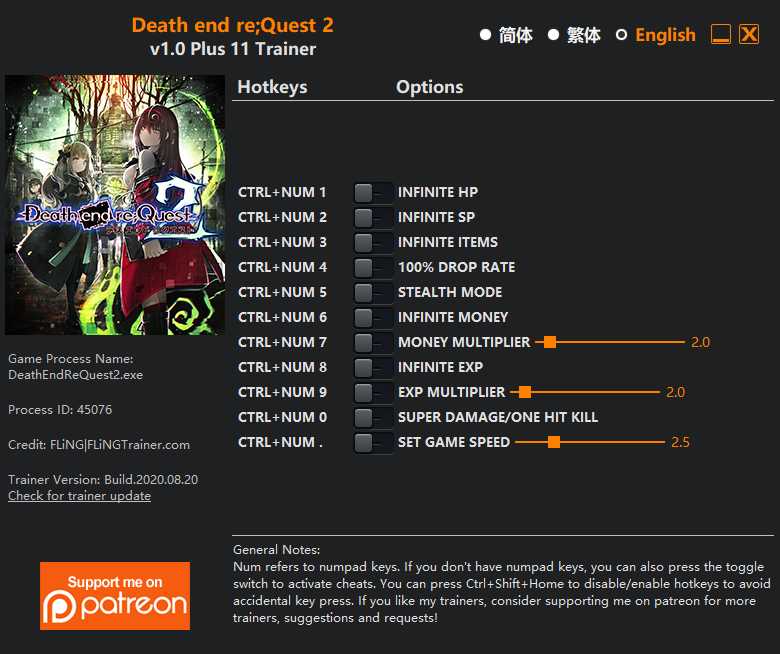 11 Options · Game Version: v1.0+ · Last Updated: 2020.08.20
Options
Ctrl+Num 1 – Infinite HP
Ctrl+Num 2 – Infinite SP
Ctrl+Num 3 – Infinite Items
Ctrl+Num 4 – 100% Drop Rate
Ctrl+Num 5 – Stealth Mode
Ctrl+Num 6 – Infinite Money
Ctrl+Num 7 – Money Multiplier
Ctrl+Num 8 – Infinite Exp
Ctrl+Num 9 – Exp Multiplier
Ctrl+Num 0 – Super Damage/One Hit Kill
Ctrl+Num . – Set Game Speed
Notes
"Infinite Money" and "Infinite Exp" take effects when winning a battle.
"Infinite Items" takes effect when item quantity changes.
"Super Damage/One Hit Kill": Activate before starting battle or wait for next turn to take effect. This option will change your characters' stats, if you want to restore their stats, disable this option and then fight a battle.