Since the premiere, Frostpunk has been enriched with a number of updates. You can enjoy the new Endless Mode (with 3 ways of playing it) that increases the replayability of the game. There is also a new scenario – The Fall of Winterhome, that further expands the game's universe and lore. And for the dessert, we've added things like naming characters and automatons and finally a photo mode. All of this is available for free for all the owners of the game. There are also three expansions, available with the paid Season Pass. At the same time we would like to inform you that we are not planning to create any more content for Frostpunk, as this journey is over for us, but there are more to come in the future, so be sure to keep an eye out for our games. Of course the game will still receive patches and fixes and we'll provide the technical support.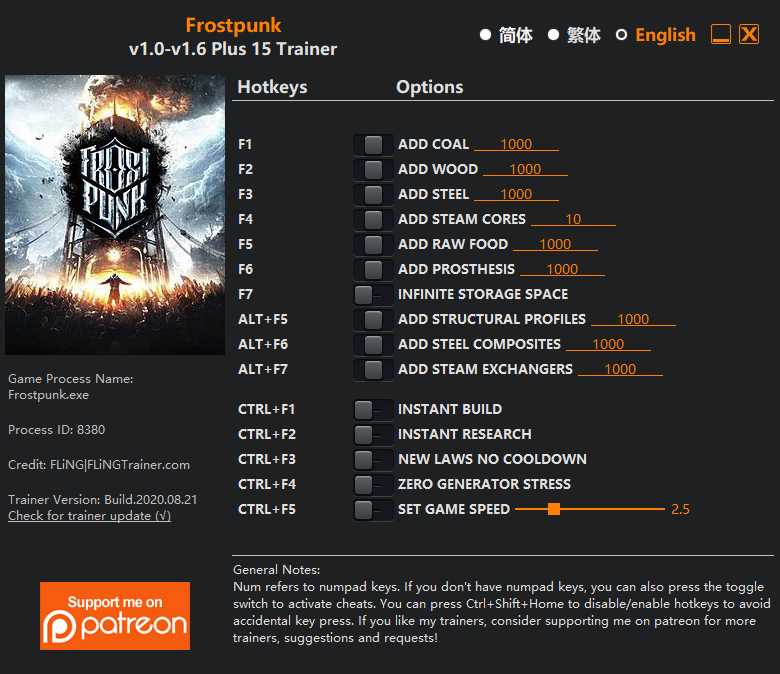 15 Options · Game Version: v1.0-v1.6+ · Last Updated: 2020.08.21
Options
F1 – Add Coal
F2 – Add Wood
F3 – Add Steel
F4 – Add Steam Cores
F5 – Add Raw Food
F6 – Add Prosthesis
F7 – Infinite Storage Space
Alt+F5 – Add Structural Profiles
Alt+F6 – Add Steel Composites
Alt+F7 – Add Steam Exchangers
Ctrl+F1 – Instant Build
Ctrl+F2 – Instant Research
Ctrl+F3 – New Laws No Cooldown
Ctrl+F4 – Zero Generator Stress
Ctrl+F5 – Set Game Speed
Notes
"Instant Research": From v1.4 or above, this option takes effect when you click on the research building.
Updates
2020.08.21: Update for v1.6 and On The Edge DLC.
2020.01.21: Update for v1.5 and The Last Autumn DLC, added DLC specific resource options.