Death end re;Quest takes the classic turn-based RPG and flips it upside-down. Switch between the RPG action of the game world and the visual novel segments of the real world. In the realm of game development, it may seem all fun and games until the lines between fantasy and reality begin to blur.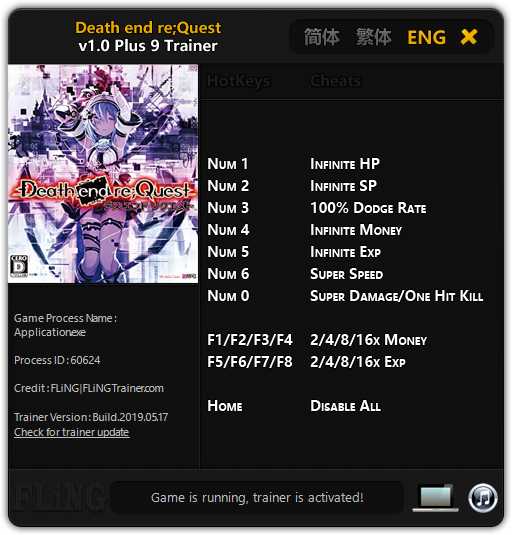 Options
Num 1 – Infinite HP
Num 2 – Infinite SP
Num 3 – 100% Dodge Rate
Num 4 – Infinite Money (Take effect when money is changed)
Num 5 – Infinite Exp (Take effect when winning a battle)
Num 6 – Super Speed
Num 0 – Super Damage/One Hit Kill
F1/F2/F3/F4 – 2/4/8/16x Money
F5/F6/F7/F8 – 2/4/8/16x Exp
Home – Disable All
Notes
1. For "100% Dodge Rate" and "Super Damage/One Hit Kill" you need to activate them before battle to take effect. These options will change your characters' stats, if you want to restore their stats, just disable them then fight a battle.
Download