Team Sonic Racing combines the best elements of arcade and fast-paced competitive style racing as you face-off with friends in intense multiplayer racing. Race together and work together as a team by sharing power-ups and speed boosts. Take control of your racing style – Choose from 3 distinct character types and unlock game changing vehicle customization options to suit your racing style.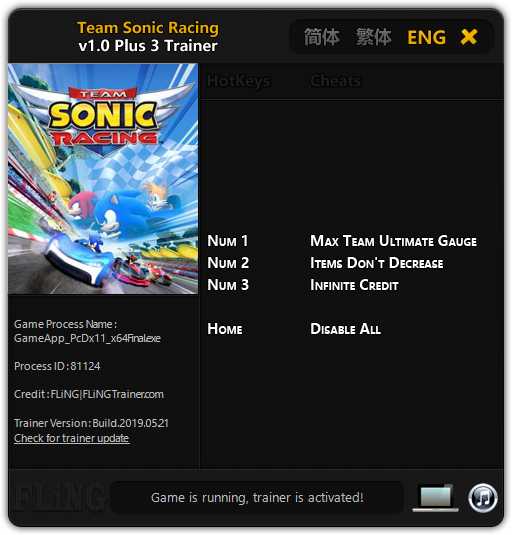 3 Options · Game Version: v1.0+ · Last Updated: 2019.05.21
Options
Num 1 – Max Team Ultimate Gauge
Num 2 – Items Don't Decrease
Num 3 – Infinite Credit
Home – Disable All
Notes
 "Max Team Ultimate Gauge" will set your team ultimate gauge to max, but you will need to increase the gauge at least once in order to perform team ultimate/boost.
 "Items Don't Decrease": Note that you can only carry one item at a time, if you want to switch items you can either give it to your teammate or disable this option then use the item.