Play your way in a world where mysticism and industry collide. Will you choose to play as Empress Emily Kaldwin or the royal protector, Corvo Attano? Will you make your way through the game unseen, make full use of its brutal combat system, or use a blend of both? How will you combine your character's unique set of powers, weapons and gadgets to eliminate your enemies? The story responds to your choices, leading to intriguing outcomes, as you play through each of the game's hand-crafted missions.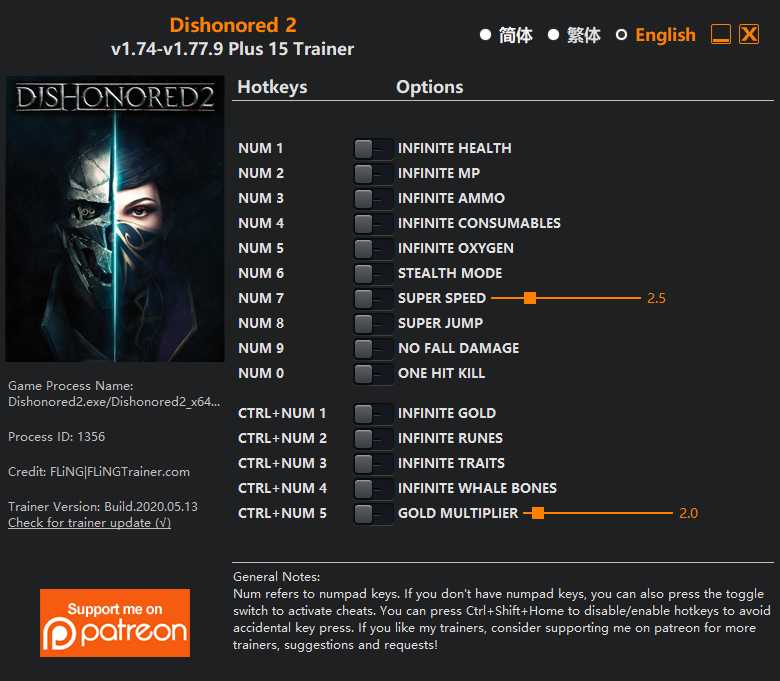 15 Options · Game Version: v1.74-v1.77.9 · Last Updated: 2020.05.13
Options
Num 1 – Infinite Health
Num 2 – Infinite MP
Num 3 – Infinite Ammo
Num 4 – Infinite Consumables
Num 5 – Infinite Oxygen
Num 6 – Stealth Mode
Num 7 – Super Speed
Num 8 – Super Jump
Num 9 – No Fall Damage
Num 0 – One Hit Kill
Ctrl+Num 1 – Infinite Gold
Ctrl+Num 2 – Infinite Runes
Ctrl+Num 3 – Infinite Traits
Ctrl+Num 4 – Infinite Whale Bones
Ctrl+Num 5 – Gold Multiplier
Notes
This trainer is based on Steam game version, some options are compatible with Windows Store game version, but some options are not compatible.
Updates
2020.05.13: Update for v1.77.9 game version.